Nintendo 3DS: Getting One?
We live in interesting times, in which what was previously a novelty, reserved to the likes of the motion master amusement park ride has become more prevalent in homes. You'd probably know what I'm talking about, simply walk into an electronics store these days and you'll find a whole plethora of 3D LCD TVs waiting for you to bring back home. I wonder whether I can get one at a lower price by the end of the year (you know…due to economics of scale yadda yadda yadda) for the new place.
Anyways, even the guys at Nintendo have joined in on the 3D bandwagon with the Nintendo 3DS. Several years ago, they were branded crazy by the press and general public alike with the release of an under-powered handheld console that ran with two screens, the original Nintendo DS. It looks like the critics are now eating their own shoes with the runaway success of the Nintendo DS and its, well, first, second and third iterations.
Now while the Nintendo 3DS is considered a true successor to the Nintendo DS, with an all new graphics processor, 3-axis accelerometer, 3-axis gyroscope, it doesn't look as if that the tech guys at Nintendo went to town with the specs. But as a long time Nintendo fan (after all, this blog started on the back of Nintendo DS game reviews), it's not always the parts, but the sum of what the parts can do when it came to Nintendo.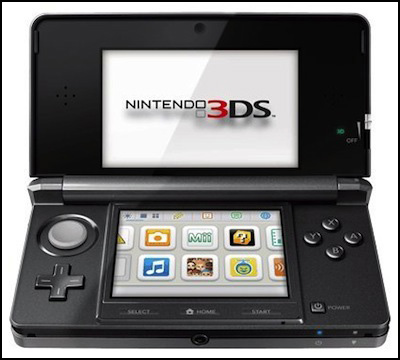 The major selling point for the Nintendo 3DS is the ability to display 3D graphics without the need for the user to put on, quite frankly, ugly looking, 3d-enabling glasses. This itself is a major plus point for a handheld console, I doubt that any case manufacturer would want to build a carry case for a 3D console AND a pair of 3D-glasses.
Another cool feature that caught my attention isn't exactly hardware-based. The Streetpass service allows players to interact with each other on a local area basis. Imagine walking pass another 3DS user in a mall and game challenges, contents, high scores and even game characters are exchanged without even you opening up the 3DS.
From the sales point of view, it looks like Nintendo has hit the jackpot yet again (it just proves that lightning can strike once, twice, thrice on the same spot), with the Nintendo 3DS gaining nearly 400,000 sales in the U.S alone since it's debut on March 27th and this is despite the price point of USD 250, which is nearly USD 100 more than the NDSi.

If you are early adopter, what can you expect from the current crop of Nintendo 3DS games? Capcom's Super Street Fighter IV 3D Edition is getting rave reviews whereas Nintendo's Nintendogs + Cats takes the original Nintendogs one step closer to you with 3D graphics and the inclusion of everyone's favourite feline: the domestic cat. Zelda and Mario fans can take heart that 3D versions of their favourite characters' adventures will be coming soon to the platform as well.
It's all really exciting with the Nintendo 3DS. I'm tempted to take the plunge that I did 5 years ago with the Nintendo DS, but this time with the Nintendo 3DS. What about you?
Powered by

Sidelines
Previous Post Briefly In Comics: Uncanny X-Force #7, Iron Man 2.0 #3 and JLA One-Shot
Next Post Cower In Fear as Destructopus is Coming To An iOS Device Near You!