Platform Hell (iPhone) Game Review: Turned Out To Be Bliss!
Remember that old Mario Bros arcade game that's like taking place in the sewer, and you had to control Mario to try and collect all the coins while exterminating/avoiding all these enemies coming out from the pipes? I had plenty of fun in that particularly simple game, and in fact, it's my favourite Mario game of all time.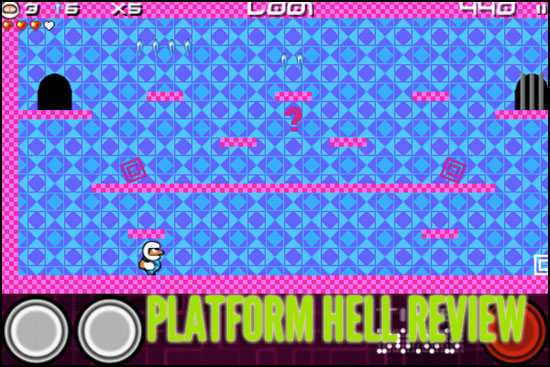 The reason why I decided to start off with something retro today is because indie game studio XS720 has brought back the classic Mario Bros gameplay with  it's latest title for the iPhone, titled Platform Hell. The objective of the game is really simple, players have to dodge monsters and collect all the diamonds to open up the exit.
The controls reflect this simplicity as well, there are only three virtual buttons at the bottom of the screen, two to move either left or right, while another is to jump. Having played several levels, I had to pry my fingers from the iPhone just to type out this review, it is darn addictive. The graphics and soundtrack reflect the game's objective of being a homage to retro games, and that to me, is just too cool.
One interesting point about Platform Hell is that the game is free; there's a paid version called Platform Hell Pro which comes with two difficulty modes, level progression and even a random more. The free version has all the levels, but if you choose to start a new game, you start at level one (resuming the game however continues from where you previously stopped). This is a interesting implementation that I've not seen anywhere else.
Platform Hell is a highly commendable game from XS720, and it's their first game to boot! Nine Over Ten 9/10 rates Platform Hell at a deserving 4 over 5. Go download the free version now!
Platform Hell is now available on the iTunes App Store for free! Check it out over here: https://itunes.apple.com/us/artist/xs720-ltd/id428765026.
Powered by

Sidelines
Previous Post The Fish Dies in the End (iPhone) Game Review: How Long Can You Last?
Next Post Manage A Tattoo Parlor In Kitty's Tattoo, Released Today For iPad and iPhone