The Fish Dies in the End (iPhone) Game Review: How Long Can You Last?
The Fish Dies in the End is one game for the iPhone that is forthcoming with the player character's fate. It's right there in the title. LOL. I can't even think of any other game that is so direct, but if you were to play the game (and you should, it's pretty good), you cannot fault the title at all. Less of course if developer Gutenberg Neto were to build a God Mode into the game then it would be a different story altogether.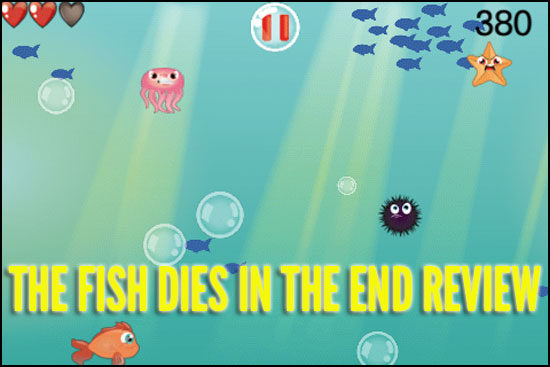 A 2D platform game, The Fish Dies in the End tests players in terms of how long they can last, swimming through the ocean without bumping into obstacles like coral or even other fish. Players do so by moving the fish up and down; this buoyancy control is achieved by touching on the screen to cause the fish to float up, and releasing in order to allow him to descend. Players can only be hit three times and then it's Game Over.
The game has three difficulty levels, easy is aimed at beginners, medium has sharks in it (the screen will turn red announcing their arrival), and hard has more predators and they are moving at faster speeds. My first few tries at Medium didn't venture beyond the 200 points score, and mastering buoyancy control is key to ensuring your fish survives for a little more longer.
The graphics, though simple, serve its purpose to convey the gameplay which is fun and challenging at the same time. To round it up, the game comes with Game Center integration along with the ability to share scores on Twitter and Facebook. Nine Over Ten 9/10 rates The Fish Dies in the End at a 4 over 5 and that comes with a Recommendation that you should get the game.
The Fish Dies in the End is available now on the iTunes App Store for just USD 0.99. Check it out over here: https://itunes.apple.com/app/id418217670. A review code was given to Nine Over Ten 9/10 by developer Gutenberg Nero for the purpose of this review.
Powered by

Sidelines
Previous Post To Infinity And Beyond With Google's Doodle
Next Post Platform Hell (iPhone) Game Review: Turned Out To Be Bliss!