Meet The Most Compelling Texas Hold'em Poker Multiplayer Experience on iOS
The folks over at Viaden Mobile have recently launched Texas Hold'em Poker 1.0, a multiplayer app for the iPhone, iPod touch and iPad featuring great options from social networking, realistic gameplay and a masterly design, making it a must have app for casino newbies and veterans. Touted as having the most compelling multiplayer experiences, the game allows users to log into it in several ways: via Facebook or Game Center, by registering a new account with the game or playing as a Guest.

Oak Brook, Illinois – Being in the forefront of the latest trends, Viaden Mobile today is pleased to announce a new product for iPhone/iPad that is sure to win the hearts of many gambling fans all over the world. Texas Hold'em Poker is more than just an online casino multiplayer, it's also an excellent socializing tool.
Realizing the importance of games' social aspects, the company made sure that users do not only take pleasure in their casino experience but also enjoy mixing with other people. The app is equipped with plenty of features that make Texas Hold'em Poker a great fun to play. The app intelligently takes advantage of the multiplayer technology to let players worldwide meet up with their friends and make new ones at a poker table.
Unlike many other offerings from a multiplayer perspective, Texas Hold'em Poker allows users to log into the game in several ways: using an account at Facebook or Game Center, registering a new account or playing a test game as a Guest. Profile data from Facebook and Game Center are automatically used for the in-game account.
Another great perk that the multiplayer option offers is that it lets you play at a table with four or eight other actual, live users over Wi-Fi. This can be most challenging and exciting as users get a good mixture of poker aficionados. The realistic gameplay will keep even casual players at the virtual tables for hours. Both tyros and seasoned poker-sharks will find a  table suitable for them and get a chance to climb the global rankings.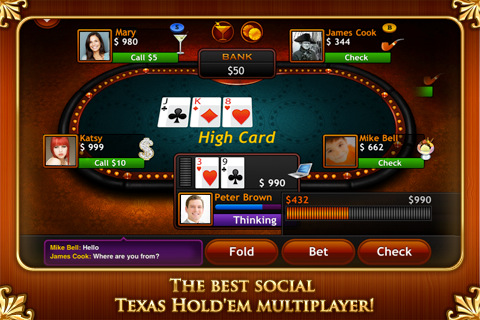 A table can be selected according to several parameters, including the size of bets, the number of players, game speed and currency type. The game speed option comes in handy when playing with other online opponents who are slow in playing or have connectivity issues. Players can choose between regular chips and VIP gold chips as a game currency.
Texas Hold'em Poker offers around 150 achievements and loads of in-game gifts to make the casino experience even more exciting and give users a chance to go from poker amateurs to Hold'em superstars. What makes Texas Hold'em Poker a socially-oriented app is its package of features that allows users to connect with other poker players wherever they are. Such options as searching for friends, chatting, sending messages and gifts make the app addictively fun to play.
"Poker games on mobile devices have been very popular for years, but making an enthralling app has always been tricky. This is why we had been thoroughly studying the latest trends in the world's most popular game for many months to create the most authentic Texas Hold'em poker game. And I believe we did the trick pretty well, says Yuri Gurski, Viaden Mobile CEO."
Pricing and Availability:
Texas Hold'em Poker 1.0 is free and available worldwide exclusively through the App Store in the Games category. Check it out over here: https://itunes.apple.com/app/id413057324
Powered by

Sidelines
Previous Post Pixeljam Games Launches Dino Run SE for the Mac App Store
Next Post Infinity_Control (iPhone) Game Review: Pretty Looking Tough Cookie