ZoomReader (iPhone) App Combines OCR & Text-To-Speech For Visually Impaired Users
Several years back a friend and I were involved in a competition to come up with an ICT (Information & Communications Technology) idea and ours involved talking with visually impaired people as they were the target market for that particular idea we had in mind. That idea went on to win first prize but more importantly I came away from it with a healthy respect for the visually impaired and at the same time, realised that technology can play a big part in their lives.
The operative word in that previous sentence would be "can". Take for instance devices that scan and then read out text such as the Intel Reader or the KNFB Reader. While the KNFB Reader is a software solution for the Nokia N82 as opposed to the hardware/software combination of the Intel Reader, both cost more than USD 1,000 each and are only accessible to those with deep pockets.
So it's pretty heartening to see low-vision software leader Ai Squared come up with ZoomReader, an iPhone app that integrated OCR and reads the text aloud to the user. This feature, when combined with the iPhone's already impressive accessibility functions makes for a very compelling alternative to the readers mentioned in the previous paragraph, not to mention it's available for a fraction of the cost. In any case, check out the press release below for more information: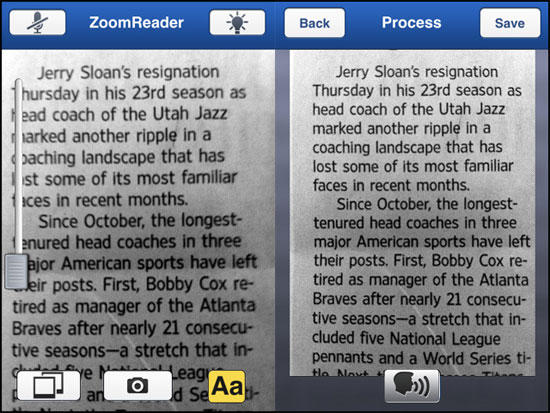 Ai Squared, the worldwide leader in screen magnification software for the visually impaired, announced today the release of its iPhone application, ZoomReader. Designed specifically for anyone in need of visual assistance, ZoomReader takes a picture of any text, converts the text digitally using Optical Character Recognition (OCR), and reads the text aloud through an integrated voice synthesizer.
The ZoomReader app can be used to read small print on a receipt, menu, box or medicine bottle, and is the first and only one of its kind on the App Store designed for the visually impaired that integrates live video magnification with up to 4X zoom, OCR and text-to-speech for the accessibility-friendly iPhone.
ZoomReader features a simple user interface with large, prominent buttons, as well as customizable color filtering/highlighting, text size, and speech rate. The application also integrates iPhone's VoiceOver feature to ensure accurate screen control and speech commands for ease-of-use. Synthesized audio is available in English with the initial download, while three additional languages are available through in-app purchase.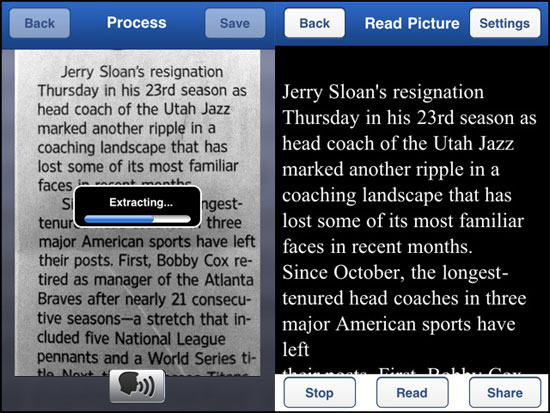 "We wanted to take our expertise in low vision software and apply it to the mobile platform, offering an option to other dedicated devices and solutions that can cost up to and well over $1,000," said David Wu, CEO, Ai Squared. "ZoomReader is the fruit of our labors, combining an accessible user interface with functionality that serves the needs of anyone requiring visual assistance with everyday tasks"
"With the iPhone paving the way for how mobile devices address accessibility needs, we're pleased to take it one step further with a dedicated app that combines OCR technology with text-to-speech in one affordable solution that we hope users will find as a savior in many situations to come."
Available today, the ZoomReader app for iPhone may be downloaded from the App Store for $19.99 at: https://itunes.apple.com/us/app/zoomreader/id414117816?mt=8&ls=1.
Powered by

Sidelines
Previous Post Help Relief Efforts In Japan By Buying Jigsaw Mansion 2.0 (iPad)
Next Post Legendary Wars (iPhone) Game Review: An Amazing Smorgasbord