Drop The Chicken (iPhone) Review: Use Physics, Save The Chicken!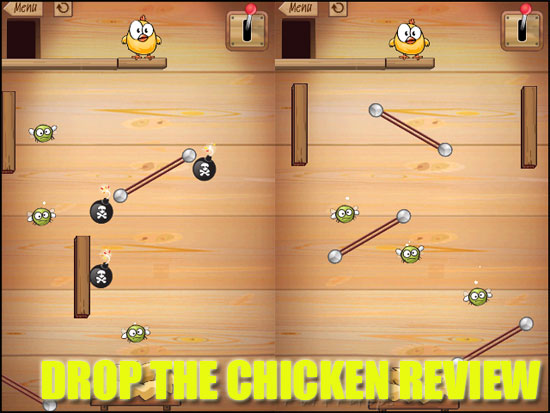 The premise of Drop The Chicken is really interesting; it's a physics-based puzzle game players are tasked with moving items around like elastic bands, barriers,  balloons, etc  to guide a falling chicken back to its nest while getting as many  bugs as possible and avoiding obstacles like bombs and buzzsaws. I do not need to tell you what happens to the chicken when he comes into contact with those obstacles, lets just say even Colonel Sanders wouldn't want the leftovers.
While games like Cut The Rope had all the tension normally associated with a trapeze act, Drop The Chicken brings about the excitement of free falling without a parachute, with only physics and the items you use being the only two things that will bring back the chicken in one piece.
The levels are tough with some of the obstacles placed fiendishly throughout the levels. I've to report that in my play-through, I didn't managed to get three stars (the maximum there is) for like 50% of the levels that I've played. Points are awarded based on how little the items are moved (the less the better) and the number of bugs that the player managed to obtain in that single level.
Like many of it's competitors (quite a number springs to mind), Drop The Chicken provides a large number of levels, spread across 4 different themes, automatically bringing in value for money as the game just costs USD 0.99. Having said that, I'm pretty impressed at the level of quality in Sharp Creative Agency's maiden game on iOS devices.
Nine Over Ten 9/10 awards Drop The Chicken with a 4.5 out of 5 rating. Hurry, that chicken needs some saving!

Drop The Chicken is available on the iTunes App Store for USD 0.99. Check it out over here: https://itunes.apple.com/us/app/drop-the-chicken/id423722522?mt=8. A review code was provided by Sharp Creative Agency to Nine Over Ten 9/10 for the purpose of this review.
For those of you who are wondering what about social gaming services, Drop The Chicken has both Facebook and Twitter integration, whereas Game Center is going to be made available in the next update.
Powered by

Sidelines
Previous Post Beautiful Top-Down Racing Game Playroom Racer is Out Now For iOS
Next Post Help Relief Efforts In Japan By Buying Jigsaw Mansion 2.0 (iPad)