Apple's 10 Billionth App Download Paper Glider Returns with Bombs
Neon Play's Paper Glider was featured several months ago as the game  was the 10 billionth App Store download. Now, there's a new follow up called Paper Glider Bomber and it promises an explosive filled experience as players glide through the city on a paper plane bomber and bombing buildings (how does a paper glider carry bombs, I don't know). Check out the press release below for more details: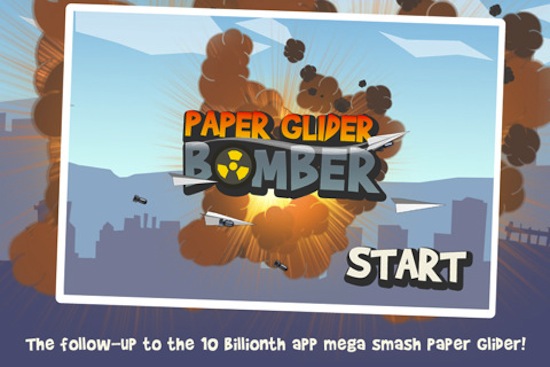 Cheltenham, United Kingdom – Paper Glider Bomber is the latest iPhone game launched by Neon Play, the UK based mobile games studio. This game follows on from the original Paper Glider which topped the free charts worldwide when it was announced by Apple to be the App Store's 10 billionth download.
The idea is simple. Players glide over a city full of skyscrapers in a paper plane bomber. As the plane flies back and forth across the screen, getting lower each time, the objective is to drop bombs to destroy the buildings before you crash into them.  Players tap the screen to drop a bomb. The easy controls allow the player to focus on experience of the game.
Paper Glider Bomber uses the same clean cartoon style of the original Paper Glider that fans have grown to love. Players need to be accurate and efficient to make the most out of their limited 10 per crossing bomb supply. The game grows challenging in later levels with taller skyscrapers and the inclusion of hospitals. Dropping a bomb on a hospital loses players 1000 points.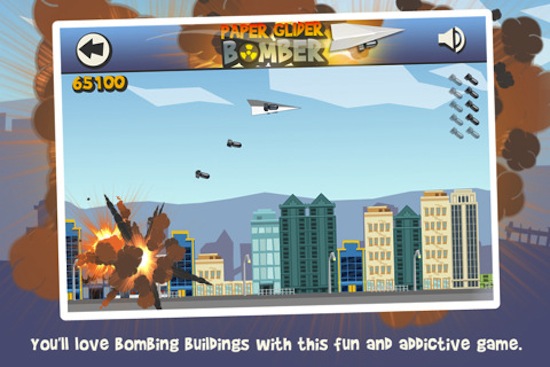 Extra bombs can be obtained from the in-game Bomb Shop by earning or buying coins (IAP), the in-game currency. The Bomb Shop sells Missiles, Cluster Bombs, Building Buster and A-Bombs. Coins can also unlock custom glider themes in the Glider Shop, such as a pink, camouflage and flame glider, or planes that are decorated with the flags of eight major countries. Players can also earn free coins by downloading apps via TapJoy's Offer Wall.
Paper Glider Bomber features live global leaderboards with Game Center and players can also post their scores on Twitter and Facebook. The original Paper Glider game is about to launch an update with a new game mode called Super Boost. The app has a Boost Shop to buy wind boosts and a Glider Shop to personalize  your glider.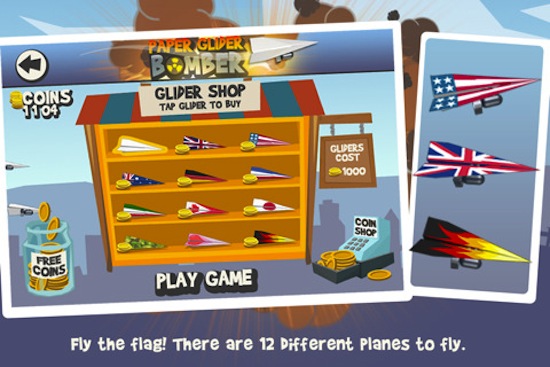 Oli Christie, CEO of Neon Play commented, "Following on from the huge success of Paper Glider, we're delighted to launch the follow-up Paper Glider Bomber. It's a cracking game that we feel casual gamers will love playing. And with the ability to buy stuff in the Bomb Shop and Glider Shop, it's going to be a lot of fun and will be a really interesting experiment in the freemium model. We hope it's a huge success."
Pricing and Availability:
Paper Glider Bomber 1.0 is free and available worldwide exclusively through the App Store in the Games category. There are optional in-app purchases to buy coins, the in-game currency. Any purchase removes the adverts in the game. Check it out over here: https://itunes.apple.com/app/id426913233
Powered by

Sidelines
Previous Post Lost Paddle (iPhone) Game Review: Fantastic 8-Bit Action
Next Post Legendary Wars (iPhone) Springs to Life with Retina Graphics and Free Version