Ball Pit 2.0 – Free 3D Game Uniquely Utilizes iPhone 4's Gyroscope
I always like it when cool iOS apps/games go for free on the iTunes App Store. Take for example, the amazing looking Ball Pit 2.0 by indie developer Terry Weisman. It's a 3D game that makes use of the iPhone 4's gyroscope, and the 2.0 update brings about a new thrust button, power-ups, Game Center integration and improved graphics. Check out the press release below for more details:
Mountain View, California – Ball Pit, version 2.0, a unique 3D game developed by Terry Weissman is now available for free. Ball Pit is best played standing up, so you can easily spin around to see everything that happens around you. Your iPhone 4 or 4th generation iPod touch acts as a window between you and the world of Ball Pit.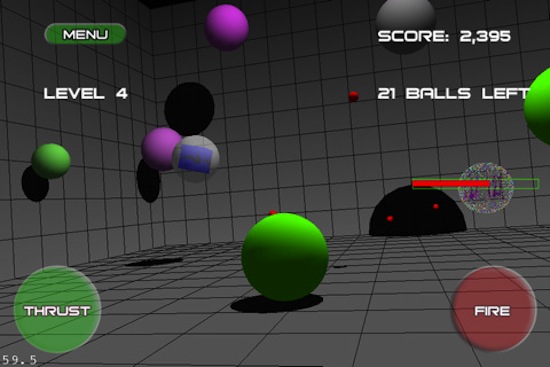 Version 1.0 of Ball Pit earned a solid 5 stars in the App Store. Now, version 2.0 builds on it by improving game play, with the addition of a thrust button, power-ups, Game Center integration, and improved graphics.
Reviews of version 1 from the App store said:
"This game is great!  The gyroscope is 100% accurate, leaving you with the impression that your iPhone has turned into a virtual eye, showing you nothing but the Pit."
"A dream come true. One of the best games I have ever played!"
"Best game on my iPod."
"By far the best game on my iPhone. Watch out Angry Birds, Doodlejump, … This game is going to the top!"
"Most innovative game interaction I've ever seen."
"The iPhone stops being the thing on which you play the game and turns into a window you are holding to look into another world."
"This app defines the iPod's gyroscope."
"Incredible game! Off the hook!"
Ball Pit 2.0 is free with unobtrusive banner ads and available worldwide exclusively through the App Store in the Games category. Advertisements can be removed with a $1.99 in-app purchase. Check it out over here: https://itunes.apple.com/app/ball-pit/id416816752
Powered by

Sidelines
Previous Post Land-a Panda (iPhone) Game Review: Makes An Impressive Splash!
Next Post Puzleman (iPhone) Game Review: One of the Best Jigsaw Games Out There