Hummingz EVO (iPhone) Game Review: Centipede Remade!
Hummingz EVO for the iPhone is a pretty interesting remake of an old arcade classic Centipede. The player controls a ladybug at the bottom of the screen firing off at bugs coming down in a zig-zag from the top of the screen. Not only that, other creepy-crawlies like bees and spiders pop-up on a regular basis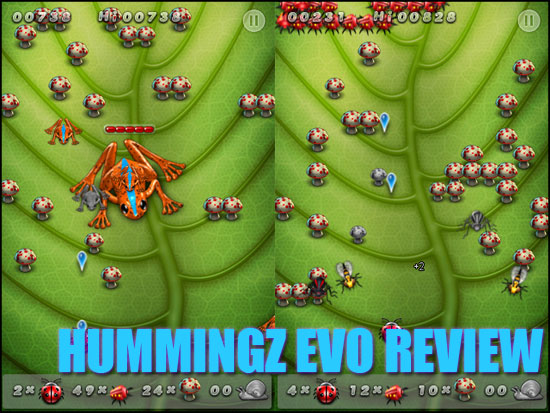 Shot bugs and mushrooms fall off can be caught by the player for bonuses such as extra shots and extra lives. Make no mistake, this is a simple, straightforward game but everything falls into place from the gameplay and controls. Have I mentioned as well that the the game features really nice graphics?
To add icing to the cake, Hummingz EVO comes with OpenFeint integration for online leaderboards. Nine Over Ten 9/10 rates Hummingz EVO at a 4/5. Get it now!
Hummingz EVO is available now on the iTunes App Store for just USD 0.99. Check it out over here: https://itunes.apple.com/us/app/hummingz-evo/id425108508?mt=8. A review code was provided by game developer Stefan Preuss to Nine Over Ten 9/10 for the purpose of this review.
Powered by

Sidelines
Previous Post Badass: The Birth of a Legend Book Review
Next Post Land-a Panda (iPhone) Game Review: Makes An Impressive Splash!