Badass: The Birth of a Legend Book Review
I loved the first Badass book by Ben Thompson so much that I lost count on the number of times I've read it from cover to cover. The appeal was from reading about these real life heroes, some of them unsung or have been relegated to back pages of history, getting described in modern, badass prose allowing them back into the limelight.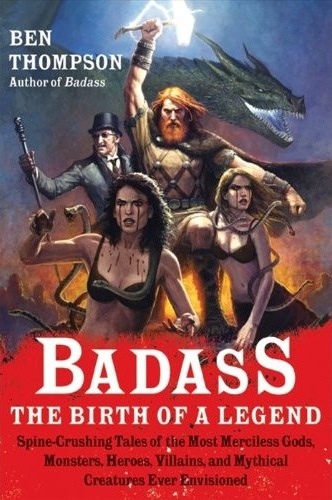 So I guess that the challenge here in the latest Badass book, The Birth of a Legend featuring legendary mythical, religious and even on-screen or on-paper fictional characters would be to out-badass-describe what seems to be figures who are already known (and some are worshipped by many) for their badassesry in the first place.
Take for example, Darth Vader. The dude is certifiable badass and the fact that he force chokes people through video conferencing makes it very hard to top in terms of writing an even more badass description of the dark cowled one of the Sith.
Mythological figures seem to dominate the book and it simply shows that IMHO Mr. Thompson is dipping too much in the same pool for ideas. I would have prefer see diversity or how about more TV/Movie characters? Having said that, The Birth of a Legend is still an entertaining book filled with badass characters, and those who are fans of the author's bombastic work should get it. For those who are new to the art of badassesry, you should get the first book as well.
An unedited, unabridged review copy of badass was provided by HarperCollins to Nine Over Ten 9/10 for the purpose of this review. Badass: The Birth of a Legend is out now, check it out over here: https://www.amazon.com/gp/product/B004IWR38S?ie=UTF8&force-full-site=1
Powered by

Sidelines
Previous Post iPlayful Launches New iPhone Puzzle Game Netwalk For Free
Next Post Hummingz EVO (iPhone) Game Review: Centipede Remade!