RobotNGun (iPhone) Game Review: Amazing iOS Thumb Shooter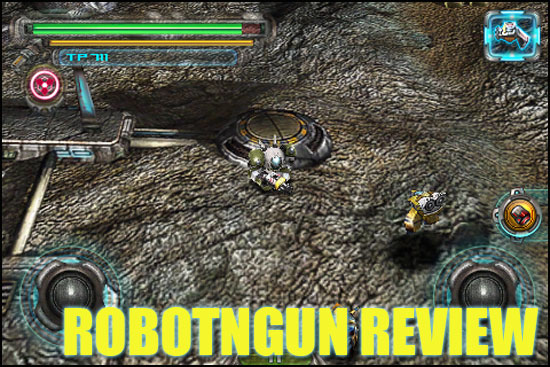 Due to my busy schedule, sometimes I get the time to review iOS games in the unlikeliest of places. The beauty of casual games is that you do not need to spend that much of time to get to know a particular game, and half an hour with RobotNGun at the car wash today was enough for me to come away with two thumbs up for an impressive thumb shooter.
Yup, RobotNGun shares plenty in common with games such as MiniGore and Age of Zombies, and being a fan of the genre, I really appreciate the fact that the controls don't stray much from the formula. What sets this game aside from say…HalfBrick's Age of Zombies would be the use of 3D isometric graphics and the use of mechs!
Not only that, as the levels progress the different enemy types are also introduced. As far as I can tell, enemy units are divided into melee and ranged units with some moving faster than the rest. While there's a handy boost button to get out of tricky situations, here's a tip, get rid of the ranged units first. Boss fights take place not only against a big-assed boss unit, but also its swarm of underlings.

Thankfully, there are plenty of weapons and upgrades to purchase using the winnings earned in each level, making it easier to face the next wave of enemies in the following levels. Here's another tip, spend real-life moolah on the Power System Controller in-app purchase and in-game currency on the cooling system upgrades.
RobotNGun comes with Game Center integration and that's just icing on an already delicious cake. Nine Over Ten 9/10 awards RobotNGun with a 4.5 over 5 rating. HIGHLY RECOMMENDED.
RobotNGun is available on the App Store for just USD 1.99. Check it out over here: https://itunes.apple.com/us/app/robotngun/id405705981?mt=8. I got the game when it was undergoing a free promo on the App Store.
Powered by

Sidelines
Previous Post Wonder Woman Joins Bishoujo (Pretty Girl) Ranks, Available Now!
Next Post Raptr Tracks Marvel vs Capcom 3: Fate of Two Worlds Player Stats