Circus Pain (iPhone) Game Review: Who Knew Human Cannon Balls Can Be So Fun
Have you ever been to the circus? There's always the prerequisite act of having launch a human cannon ball (be it a daredevil or a clown) out of what else but a cannon. You can now do so and feel the pain in Ongoz's (love the mushroom logo!) latest game for the iPhone, the aptly titled and sadistic (in a fun, casual game way….it feels so wrong saying that) Circus Pain.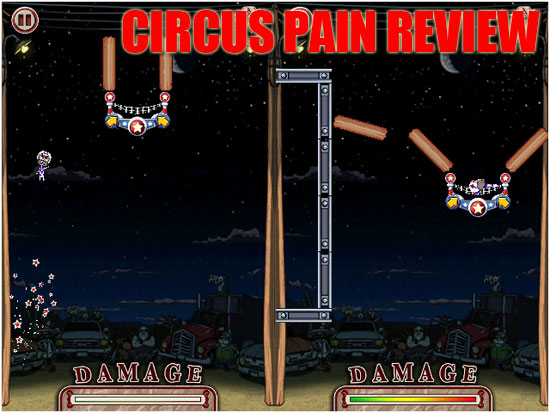 Circus Pain makes good use of physics as you attempt to shoot Igor (yes, the guy has a name, so be nice) out of a cannon and land him in a platform above while racking up the amount of damage on the poor guy. Basically you are rated on how much pain Igor goes through and the levels make good use of objects like steel girders, sliding polls with boxing gloves…you get the idea…to both impede your way to the landing platform and at the same time bringing on the pain.
The game makes judicious use of sound effects to help drive home the damage you are inflicting on poor Igor and it's a miracle that he's holding up so well despite the silly costume and a crash helmet for protection. The levels themselves are tough bastards. Some of the landing platforms are really obscured but thankfully you can adjust the placement of the cannon, and the angle/power to the shot.
Some finesse would be necessary to land Igor on MOVING landing platforms but at times, I think I was relying more on luck. There are more than 50 levels with each seeing Igor tackling harder challenges.
I'm really impressed with this whole human-cannonball-in-an-app thing and for what it's worth, one man's (albeit virtually in the form of Igor) suffering is another man's gain in terms of casual gaming entertainment. Nine Over Ten 9/10 awards Circus Pain with a 4/5 rating. RECOMMENDED!
Circus Pain is available on the iTunes App Store for just USD 0.99. Check it out over here: https://itunes.apple.com/us/app/circus-pain/id424274249?mt=8. A review code was provided to Nine Over Ten 9/10 for the purpose of this review.
Powered by

Sidelines
Previous Post If There's Only One Movie I Could Watch This Year…It's Captain America!
Next Post iPlayful Launches New iPhone Puzzle Game Netwalk For Free