Archetype (iPhone/iPad) Gets New Update: New Content, New Game Mode And Many More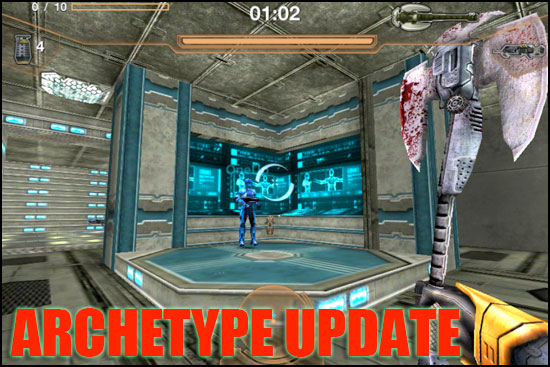 The guys at Villain are hard at work as they have just released an update to their highly rated MMO-FPS for the iPhone and iPad, Archetype. This update brings the game up to version 1.5 and puts in 3 times more content, a new, streamlined lobby and numerous new features including a new game mode. Check out the press release below for more info:
Archetype Adds 12 New Levels, Free for All Mode, and More, All for Same Low Price
Free Update for Highly-rated iPhone Online FPS from Villain Features Three Times More Content, Streamlined Lobby, and New Features; Archetype HD for iPad Also Updated
Cary, NC – March 10, 2011 – Villain™, an independent publisher of fiendishly entertaining portable game titles, announced today the release of a major update with 12 new levels and a new "Free for All" mode for Archetype, its top-selling and critically acclaimed online first-person shooter game for the iPhone and iPod touch. The price for Archetype on iPhone remains just $0.99 ($2.99 on iPad), providing players with extremely high bang for a buck.
"With twenty levels, three modes, numerous gameplay improvements, and a streamlined new lobby that unites all players for the fastest, most intense five-on-five matches, Archetype 1.5 represents a large step forward for online FPS gaming on iPhone," said Dane Baker, Villain CEO. "For just 99 cents, Archetype gamers will get maximum iPwnage for a great fragging price."
Version 1.5 adds a massive 12 new levels, new Free for All (FFA) mode, a streamlined lobby system, a new menu system, Capture the Flag (CTF) mode for all players, a number of gameplay improvements, and much more. From the lobby, players can now access a whopping 20 levels and three game modes, including six new FFA levels and three Capture the Flag (CTF) levels previously only available in the Frontier DLC pack.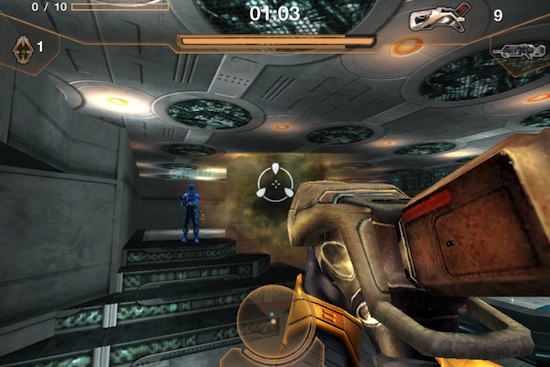 The Archetype 1.5 update, which is currently available for download on the App Store as a free update for all current owners, includes the following new content and features:
Team Deathmatch, CTF, and FFA battles across 20 maps with seven weapons (including the Battle and Precision Rifles, rapid-fire AutoMag, shotgun, missile launcher, brutal melee axe, and CTF flag weapon) plus two grenade types
New Free for All mode and 6 new FFA Levels including Obsidian Skirmish FFA, Aqualock FFA, Vault FFA, Cobalt FFA, Orion FFA, and Viridian FFA
Three additional CTF levels and three additional team deathmatch maps now unlocked for all players
New lobby with streamlined matchmaking and access to all 20 levels
Numerous updates including new fair play measures to block cheaters, an improved menu interface, and bug fixes
Archetype HD for iPad features all the same updates as Archetype, and the HD version is now priced at $2.99. For more information, visit villainhq.com/archetype.
Powered by

Sidelines
Previous Post Puzzle Wars (iPhone) Review: 4 Way Pirates vs Ninjas vs Zombies vs Pandas Fight
Next Post Tasty Planet HD Released For iPad: 2D Katamari Damacy Comes To Mind