The Drill Plus (iPhone) Game Review: Drill-Em-Up
I'm here today to talk about a rare sub-genre of shoot-em-up (shmup) games called drill-em-ups. You see, specimens of this genre are so rare, that I can only think of one that's available on the iPhone, the aptly titled The Drill Plus.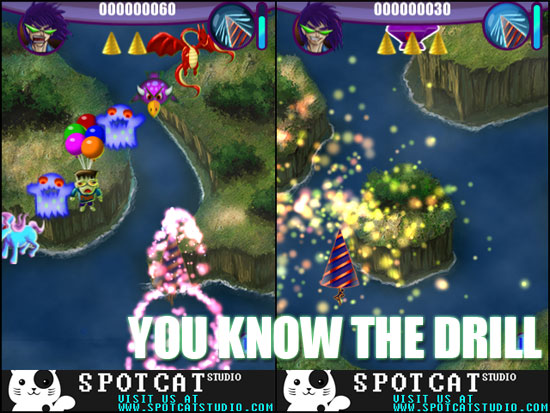 It's a pretty interesting concept that the "ship" in question is the weapon, instead of just firing stuff around like in traditional shmups, players take control of the giant flying drill and plow their way through enemies. Some of these however, like anvils, are pretty hard stuff and would require players to get hold of some power-ups in order to drill through them.
Alternatively, players can tap on the screen to activate a boost in drilling power. This however comes with a short cool-down period before this ability can be activated again. Tilt controls are used to move the drill around in levels similar to that of traditional shmups; and this makes the game a pretty easy one to get into.
The game comes with several game modes, Story and Endless, and the game comes with Game Center support, additional storyline and the promise from the developer, Spotcat Studio, for new updates and bonus stuff as compared to the free version called The Drill.
The Drill Plus is a really easy game to get into and is a slightly different, if not, interesting, take from the shmups of norm. Nine Over Ten 9/10 awards the The Drill Plus with a 4 out of 5. RECOMMENDED.
The game is available on the iTunes App Store for USD 0.99. Check it out over here: https://itunes.apple.com/us/app/the-drill-plus/id417376289?mt=8. A review code for the game was given to Nine Over Ten 9/10 by Spot Cat Studio for the purpose of this review.
Powered by

Sidelines
Previous Post Float (iPhone) Review: Who Knew Balloons Can Be Great
Next Post You Don't Need An App For Everything, Not At Least Google Adsense