Float (iPhone) Review: Who Knew Balloons Can Be Great
A friend of mine showed me some pretty awesome stuff yesterday on Angry Birds, namely The Mighty Eagle. It's pretty cool stuff, like a nuclear bomb coming down from the skies (with that crazy sound effect) and boom, bye-bye piggies.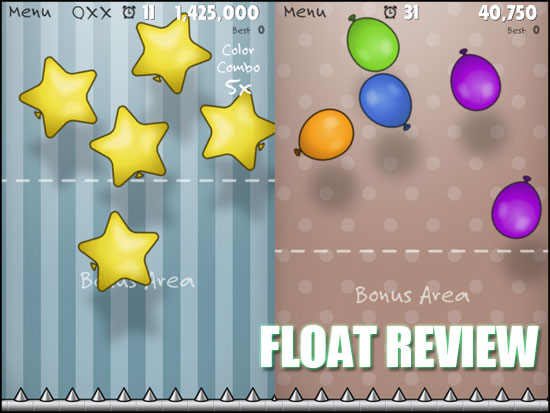 Enough about the Rovio phenomenon though, you know what's awesome as well? Crawl Space Games' latest game for the iPhone called Float. It's a little bit like Tetris with balloons, and the premise is simple enough. There's a whole bunch of spikes at the bottom of the screen and balloons (of various shapes and sizes) are falling down from the top. Players will need to touch and flick them upwards to avoid them being burst by the spikes.
By doing so, players gain points. More points can be earned by performing combos (such as tapping several balloons of the same colour in a row) or letting the balloons drop low enough into the bonus area before flicking them up. The amazing part about Float is the number of game modes available. Limbo, One & Done, Zen and Time all do well to complement the main game mode.
There's nothing to fault gameplay and graphics wise in Float and this is one game that is gonna be very hard to put down. Nine Over Ten 9/10 awards Float with a 4.5/5 rating. HIGHLY RECOMMENDED.
Float is available on the App Store for USD 0.99. Check it out over here: https://itunes.apple.com/us/app/float/id409855273?mt=8. A review build was provided by Crawl Space Games to Nine Over Ten 9/10 for the purpose of this review.
Powered by

Sidelines
Previous Post iOS 4.3 Personal Hotspot Don't Work That Well With DiGi/iPhone 3GS?