Poker With Bob (iPhone) Game Review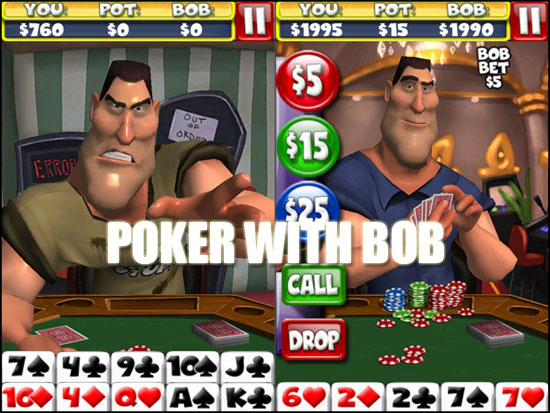 Card games are a dime a dozen on the App Store (same can be said about games involving jumping, doodles or tower defense) and you can find almost anything from poker to solitaire. One thing can be said about the games though, it's not often that you can find one that offers up a face to the A.I opponent, but this doesn't apply to Scary Robot Production's Poker with Bob.
Bob is that big guy you wouldn't want to mess with but he's the one who'll be playing draw poker against you in all his 3D, animated glory. He'll bemoan his losses, and even berate and taunt you when he's winning; basically he keeps things interesting while you attempt to beat him at draw poker.
I've personally never seen anything like Poker with Bob, and despite his brutish presence, he actually made the game an interesting one, a very different take from dour affairs seen in past card games. The game makes for a great learning experience as far as draw poker games are concerned.
The game offers up five, ever-increasing in challenge, levels with higher stakes along with one-on-one multiplayer through Bluetooth. Players can track their greatest wins along with their greatest comebacks thanks to the game's multiple high score tables.
Nine Over Ten 9/10 gives Poker with Bob a rating of 4/5. RECOMMENDED.
Poker with Bob is available on the iTunes App Store for USD 0.99, check it out over here: https://itunes.apple.com/us/app/poker-with-bob/id416454877?mt=8. A review code for the game was provided by Scary Robot Productions to Nine Over Ten 9/10 for the purpose of this review.
Powered by

Sidelines
Previous Post Romance of Rome Gets Released On The iPhone and iPad
Next Post Infinight (iPhone) Game Review: Atmospheric Survival Horror Everyone Can Play