Five Little Monkeys Jump On To The iPhone and iPad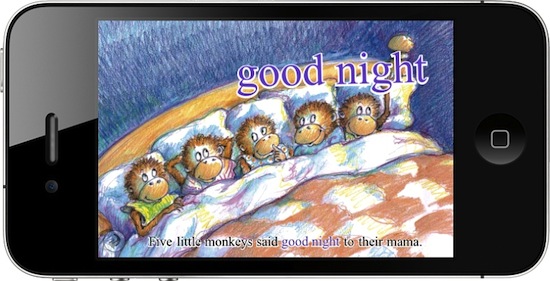 Oceanhouse Media has announced that they are bringing in a new line of children's books to mobile devices, namely the iPhone. and iPad. The omBooks Five Little Monkeys Jumping on the Bed, is now available on the App Store. Check out the press release below for screenshots and details:
Oceanhouse Media and Houghton Mifflin Harcourt Release Five Little Monkeys Jumping on the Bed App for Apple Devices: First in a series of Five Little Monkeys omBooks that will be available in the App Store for $2.99
Oceanhouse Media, Inc. and global education leader Houghton Mifflin Harcourt (HMH) today released the Five Little Monkeys Jumping on the Bed omBook(TM) for iOS devices. This universal app is available in Apple's App Store for the introductory price of $2.99. The app can be used on the iPad, iPhone and iPod Touch for no additional charge, including special high-resolution graphics for Retina displays. Additional titles in the series will be released throughout 2011. For additional information and to listen to a sample of Five Little Monkeys Jumping on the Bed, visit the Oceanhouse Media website.
"The combination of humor and rhyme encourages young readers to learn to count as each monkey learns the risks of jumping on the bed," said Michel Kripalani, Founder and President of Oceanhouse Media. "Author Eileen Christelow's colorful illustrations of fun-loving monkeys naturally lend themselves to a playful digital version."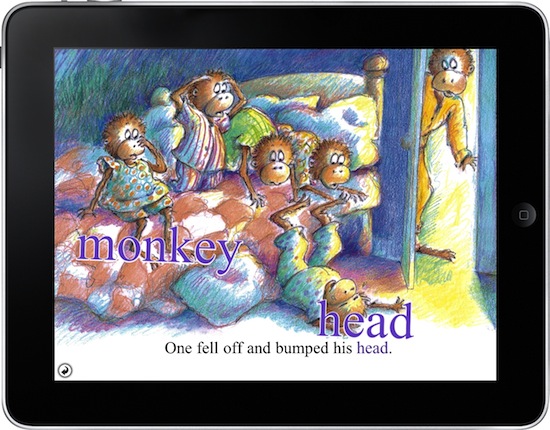 Originally published in 1989, the Five Little Monkeys Jumping on the Bed picture book takes the popular nursery rhyme and illustrates five precocious monkeys getting ready for bed. They take a bath, brush their teeth, put on their pajamas and bid mama goodnight. However, it doesn't end there — each funny monkey jumps off the bed and bumps his head, forcing mama to repeatedly call the doctor. As the popular nursery rhyme goes, the mama called the doctor and the doctor said, "No more monkeys jumping on the bed!"
"We look forward to working with Oceanhouse Media to release the Five Little Monkeys series as digital books," said Cheryl Cramer Toto, Senior Vice President of Business Planning and Strategy, HMH. "We love watching these well-known stories and their charming characters come to life digitally, further enhancing their appeal to young readers everywhere."
Seven titles about the rambunctious little monkeys have sold more than four million copies across all formats. Booklist describes the series as "Pure silliness — just the kind kids like." The eighth book, Five Little Monkeys Reading in Bed, debuts this September.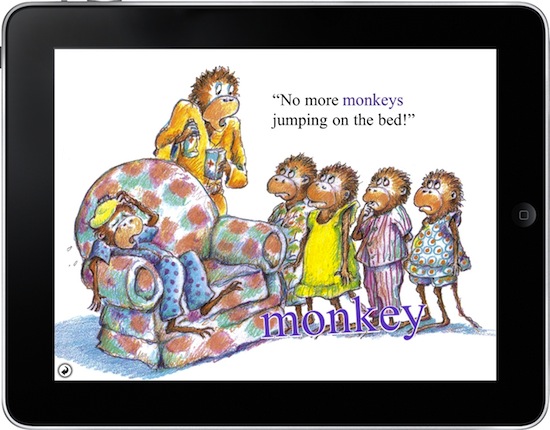 Other HMH titles available as omBooks include Tacky the Penguin and Tacky's Christmas.
The Five Little Monkeys Jumping on the Bed omBook has three options: Auto Play (geared toward younger readers), which plays like a movie by automatically reading and turning pages; Read to Me, which allows users to listen to the narrated story with words highlighted as they are read; and Read It Myself, which lets users read the book in its traditional format. Additional features include original artwork, picture/word association, word highlighting, professional audio narration and scene-by-scene custom background audio
Powered by

Sidelines
Previous Post Ant Raid: Amazing Looking Action Horror RTS Coming For The iPad This Spring 2010