Blackjack & Prizes (iPhone) Game Review: It Aces!
I've got two card games to review for the iPhone, one of them is under embargo until next week and the other is Freeverse's free-to-play (a.k.a freemium) game called Blackjack & Prizes. Like the name implies, the game offers one-on-one blackjack games against the A.I with the objective of winning chips to fill up a jackpot meter. Once this jackpot meter is filled up, players get to play with a slot machine to earn additional chips.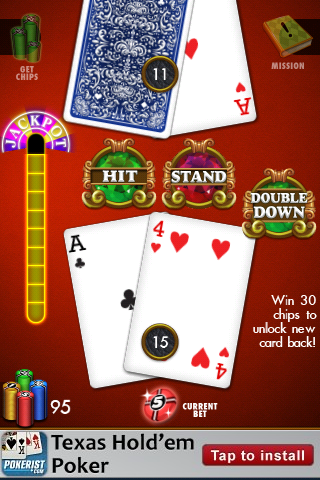 The blackjack aspect of the game is pretty fun, with the A.I dealer being somewhat of a fair challenge, and I enjoyed every bit of playing against it. According to the developer, B&P observes the standardised rules and averages of Blackjack employed by casinos worldwide, hence, no cheating.
You may be asking about the "Prizes" part of the title, it's part of the meta-game whereby players get to unlock "The Heist", an interactive puzzle of international adventure and excitement. I don't really care about this particular bit as I'm in for the blackjack.
So what happens when you run out of chips? Here's where the freemium part of the game earns its keep. Players can do in-app purchases for stacks of chips with Blackjack and Prizes charging from USD 0.99 for a short stack to a whopping USD 89.99 for what is dubbed as the "Ultimate Stack of Chips". Remember the mum who had iTunes bill shock because her daughter went to town on Smurfs' Village in-app purchases? Well parents will need to exercise some caution here.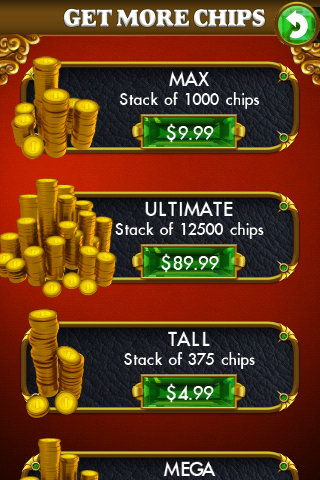 Blackjack & Prizes is a pretty good blackjack game that has its bases covered, and what's more, it's free (that's until you lose all your chips). Nine Over Ten 9/10 awards it with a 4/5 rating. RECOMMENDED.
Check out Blackjack & Prizes over at the iTunes App Store: https://itunes.apple.com/us/app/blackjack-prizes/id410316454?mt=8
Powered by

Sidelines
Previous Post Play-Asia's Lucky Lunar New Year Sale 2011 Is Here – Stock Up On Video Games
Next Post Handling The Undead Book Review