Thief Lupin! (iPhone) Game Review: A Great AND Free Platformer
Thief Lupin! is one of the more frustratingly addictive iPhone games that I've reviewed so far on Nine Over Ten 9/10, and this is a one-button game we are talking about. The game is a platformer where players take charge of the Thief Lupin, with each level having a different objective for the single button operation.
Depending on which level he is in, tapping on the screen can mean different things to Thief Lupin. In some levels, it will cause him to jump, or stop, or launch himself further (by tapping and holding down on the screen). This ingenious way of shifting the controls to the level themselves allows the game to live up to it's "one-button game" promise.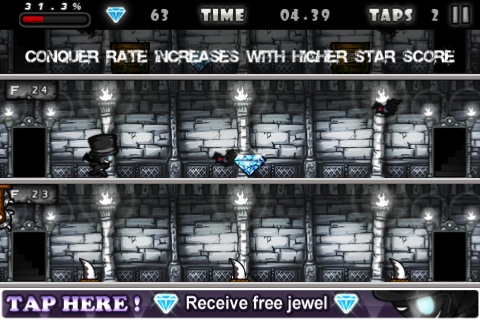 The levels themselves take place in several stages based on well known buildings/locations in real life. There's the Neuschwanstein Castle, along with the Empire State Building, the Pyramids…all of which add up to 300 unique levels. Each level contains a Diamond to be collected and diamonds earned can be used to unlock new stages.
Diamonds can also be purchased in-app, and this seems to be the main way the developer makes some moolah as the game itself is free of charge. One additional thing to note is that the art direction is really gorgeous and it's not everyday you get excellent 2D graphics paired with similarly excellent gameplay (easy to learn, difficult to master), in a single package.
Nine Over Ten 9/10 rates Thief Lupin! at 4/5 and I would certainly recommend it to anyone. It's free after all and there's nothing to lose by downloading this game.
Thief Lupin is available on the iTunes App Store at: https://itunes.apple.com/us/app/thief-lupin/id401590508?mt=8
Powered by

Sidelines
Previous Post Get 10% Off and Free Shipping for New Verizon iPhone 4 Cases
Next Post Fruit Frenzy (iPhone) Game Review: Fun, Whimsical Match-3 Game