Fruit Frenzy (iPhone) Game Review: Fun, Whimsical Match-3 Game
If there's one thing in common among the iPhone games that I've being reviewing lately, all of them are beautiful looking 2D affairs. Take for instance Fruit Frenzy. The art direction reminds me of the the whimsical art that you find in children books of old, very nice indeed. And the best part is, the gameplay rises to the occassion as well.
Fruit Frenzy is a "match-3" game, players will need to slide fruits around to get 3 or more of the same kind horizontally on the center role. With this basic premise, there are three game modes, namely arcade (endless), puzzle, and time attack; these are perfect for a lazy afternoon and for short joints of play.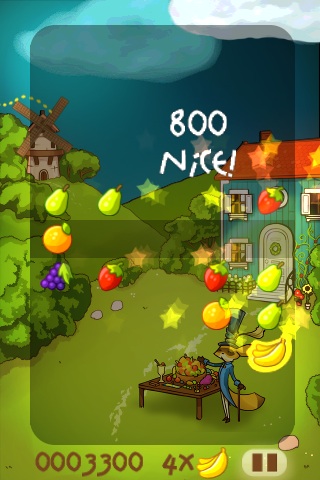 This is a delightful gaming experience for both adult and children alike, and not just for fans of match-3 games alone. As such Fruit Frenzy gets a deserving 4/5 rating from Nine Over Ten 9/10. RECOMMENDED.
Fruit Frenzy is available on the iTunes App Store for just USD 0.99. A promo code for this game was provided to Nine Over Ten 9/10 by White Bat Ltd for the purpose of this review. Check out the game over here: https://itunes.apple.com/us/app/fruit-frenzy/id416810370?mt=8
Powered by

Sidelines
Previous Post Thief Lupin! (iPhone) Game Review: A Great AND Free Platformer
Next Post Eggs in Space (iPhone) Game Review: Splatting Fun!