Swing King (iPhone) Developer Announces Become The King Tournament with USD 500 Cash Prize
Check this out, Nicholas Henson, developer for the iPhone game Swing King is announcing a tournament featuring the game and a cash prize of USD 500. Players will have to compete for the number one spot on the Swing King Leaderboard in order to claim the prize. The tournament runs from 1st February to the 31st of April 2011.
Become The King Tournament
Savannah, Georgia – Announcing the first "Become The King" Tournament. It's time to put your money where your mouth is! Compete for the number one spot on the Swing King Leaderboard and claim your prize. In an effort to raise awareness of the Swing King iPhone game Nicholas Henson is throwing the first Tournament for the app. The Tournament begins on Feb 1, 2011 and ends on April 31, 2011.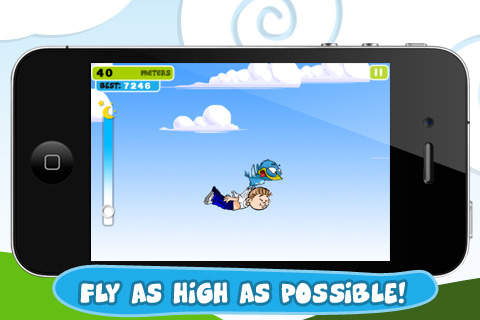 The person that reaches the number one spot by April 31, 2011 at midnight will be rewarded with $500 and the title of Swing King! The proceeds of this Tournament will go towards adding additional features to the game including new obstacles, enemies, more attachments and possibly a whole new game mode. More Tournaments are planned for the future and simply owning the game will automatically allow you to compete in future Tournaments.
The goal is to jump off the swing and see how far one can land – this time with the help of birds hovering in the sky and attachments to give the player extra boosts. The farther the player lands, the more points can be obtained. With these points, users are able to purchase additional attachments that will allow to gain more altitude, speed, hover, or skip over rocks on the ground. One can also buy additional points with the in-app purchase right from the beginning.
It's simple to enter:
Download the Swing King iPhone game for only $.99 cents.
Login or Register with Openfeint through Swing King to get your highscore on the leaderboard.
Tap your way to victory and the Grand Prize.
Pricing and availability:
Swing King 1.0 is only $0.99 (or equivalent amount in other currencies) and is available exclusively through the App Store in the Games category. Check it out here: https://itunes.apple.com/app/id380659153
Terms and Conditions for the Tournament: https://swingkingapp.com/becometheking.php
Powered by

Sidelines
Previous Post Zoo Entertainment Launches New Division For Indie Game Developers
Next Post Snake Classic (iPhone) Hits Its 1 Millionth Download In Less Than 4 Months!