Speedy Biker (iPhone) Game Review: Controls Throw A Spanar
There are plenty of things to like about Speedy Biker for the iPhone, it's a clone of the old console classic Excitebike (Come on, who doesn't like Excite Bike?), it has nice, colourful 2D graphics and on top of that, there's Game Center. But one thing takes the whole thing and dumps it into the trash can. What's that? Tilt controls.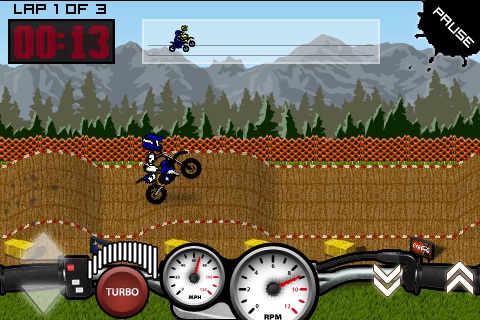 The controls are shot, you tilt your iDevice to the right or left to make the rider lean forwards or backwards (doing a wheelie). But even you hold the iDevice stationary, the rider can AND will attempt to lean back or forward without player intervention. It just makes the game unplayable. Until someone fixes this problem, Nine Over Ten 9/10 couldn't possibly recommend this game. Speedy Biker gets a 2.5/5.
Speedy Biker is currently available on the App Store for USD 0.99. A review code was provided by Pirate Monkey Studios to Nine Over Ten 9/10 for the purpose of this review. Check it out here (but don't say I didn't warn you about the controls): https://itunes.apple.com/us/app/speedy-biker/id393107354?mt=8
Powered by

Sidelines
Previous Post British Invasion!
Next Post Getting RTS Pwnage On The Mac