Pangea Arcade (Mac) Review: Perfect Time Waster
If you are snowed-in (or in my case, stuck at home due to the rain), and need some form of arcade distraction on your Mac, check out Pangea Arcade, a collection of games inspired by classic arcade hits. Released recently on the Mac App Store, Pangea Arcade consists of three games, Nucleus, Warheads and Fireworms.
Of the three, Warheads, a derivative of Missile Command happens to be my favourite. The gameplay is pretty damn frantic and the gorgeous graphics complement this. Players controls sets of missile launchers and the controls map themselves well to a three buttoned mouse. Nucleus, on the other hand is inspired by Asteroids. I'm not sure what's the take on Fireworms, but I would assume that it would be Centipede.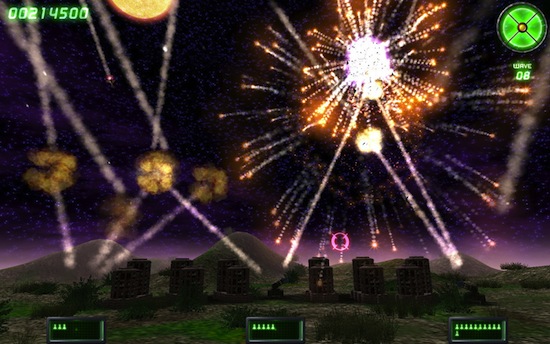 One unique thing about Pangea Arcade are the optional 3D settings. Once selected, you can view the game in 3D with a pair of 3D anaglyph glasses! Nine Over Ten 9/10 rates this game at 4/5 for being such an excellent time waster. RECOMMENDED.
Pangea Arcade is currently availalble on the Mac App Store for USD 2.99. A copy of the game was purchased during its promotional period when the price dropped to zero. Check it out over here: https://itunes.apple.com/us/app/pangea-arcade/id403414084?mt=12
Powered by

Sidelines
Previous Post Darth Vader Goes For Maintenance In His Latest Comic Book
Next Post British Invasion!