Iron Wars Makes It to the Mac App Store
One of the iPhone games that I reviewed has made it to the Mac App Store! Iron Wars (check out my iPhone review here) by European game makers AppMania has successfully made the transition is now available on the Mac App Store for USD 2.99. I wonder how the controls are like though, keyboard or touchpad? In any case, check out the press release below for more details:
Iron Wars Game is Available for Downloading in Mac App Store
Kiev, Ukraine – AppMania Company today is delighted to announce the release of our new product: 3D game "Iron Wars" for Mac that from today is available for downloading in Mac App Store. The Iron Wars is a thrilling 3D shooting game which will undoubtedly impress even the most hard-to-please gamer.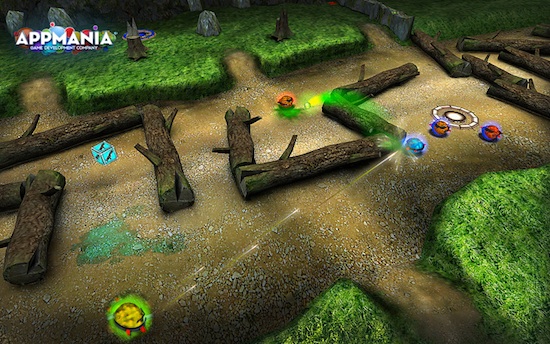 Iron Wars is an exciting battle between fabulous iron balls in real time or in top-down view. It can equal the best action games in dynamics, speed, excitement in a breathtaking atmosphere. The showy graphics, dynamic sound and captivating gameplay will carry you away to the fabulous world of the Iron Wars which is full of challenges and surprises. The action absolutely will surpass your expectations without a doubt.
The battle of the balls takes place in the most unexpected areas such as space platforms, abandoned mines, forests, and cemeteries with vaults. There are 9 colorful maps which diversify the game and add to its exciting gameplay. Besides, there are many weapons and special bonuses on the maps. Besides the traditional first-aid kits and armor there are brand new ones such as a ram. It will help you to defeat enemies and earn a victory.
Moreover you have an opportunity to play with each other via Wi-Fi with up to 6 players per map. You are able to share your scores with your friends via a special application that allows this. You of course decide with who you will share your score. You can choose the single-user campaign or play with customized bots in Quick Match mode. The campaign consists of 32 missions and three different game modes – Death Match, Team Death Match and Domination.
Take the challenge and become a participant in this fantastic bloodless war. You will need much effort, skill, wit and endurance to gain victory as your enemies may be very smart, experienced and unpredictable. One of the advantages of the game is good control so you will be able to do your best.
Features:
32-level campaign
Network game via Wi-Fi with up to 6 players per map (Internet mode in the nearest updates)
Possibility to play with other iPad/iPhone and Mac OS X owners
Customized game with bots
9 different maps in 5 settings
Dynamic sounds
Three different game modes (Death Match, Team Death Match, Domination)
Vast variety of weapons and special bonuses on the maps
Score table developed on the direct sharing basis to show just your own and your friends' results
System Requirements:
Intel-based Mac
Requires Mac OS 10.6.6 or later
35.1 MB
Pricing and Availability:
Iron Wars v1.1 is $2.99 USD (or equivalent amount in other currencies) and available worldwide through the Mac App Store in the Games category. Check it out over here: https://itunes.apple.com/app/id411880657
Powered by

Sidelines
Previous Post Illusia (iPhone) Game Review: 5/5 2D RPG, A Must Have!
Next Post Macgamestore Announces Tom Clancy's Splinter Cell Conviction Pre-Orders