Raynium (iPhone) Game Review: Leave It On The App Store's Shelf
Sometimes I'm quickly reminded that the iPhone and the App Store are testbeds to budding developers and more often than not the end result is an app that is less than desirable. Case in point would be Raynium, a 2D-side scroller, and while I can understand the motivations and effort needed to come up with an app, calling this game a poor-man's Contra would be doing Contra a disservice.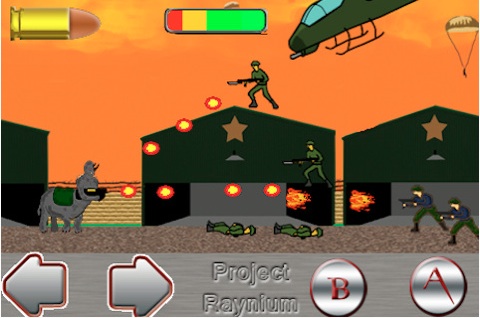 The game was most likely made with some kind of game creator software and this kind of stuff doesn't really need much technical know-how to operate. As a result, Raynium plays and looks really rudimentary and to most people it will be a complete waste of time and money. I couldn't possibly recommend the game and at most it manages to get 2 out of 5 STARS, one of which is for effort.
Raynium is available at USD 1.99 on the App Store. You can check it out over here: https://itunes.apple.com/us/app/raynium/id412938944?mt=8. A copy of the game was given to Nine Over Ten 9/10 for review purposes.
Powered by

Sidelines
Previous Post Raptor Call of the Shadows 2010 Edition Now Available on Mac App Store
Next Post Brutal Fantasy – The Orcs of Undermountain (iPhone) Game Review: Get This Game, And Lay On The Smackdown