Toy Balls! (iPhone) Lite-ens Up – Release Free Version to the App Store
I reviewed Toy Balls! (iPhone) last week and found it to be pretty good (4/5 Stars, read the review here). And now the developer, Cazual Games, has just released a free version of the game. If you have been holding out from getting Toy Balls!, I strongly recommend that you check out this new version of the game. Check out the press release for details:
Toy Balls! Lite-ens Up – Release Free Version to the App Store
Athens, Greece – Application development studio, Cazual Games, announces today the release of Toy Balls! Lite, a free version of their popular game for iPhone, iPod touch, and iPad. Toy Balls! Lite offers 6 levels of the original addictive arcade game, as well as intuitive game play and physics.
The Game
It all begins in a wooden universe where balls roll and move around. The objective is dead easy to pick up; the player must rescue as many balls as possible by connecting them together, before they touch the electro zapper and get toasted.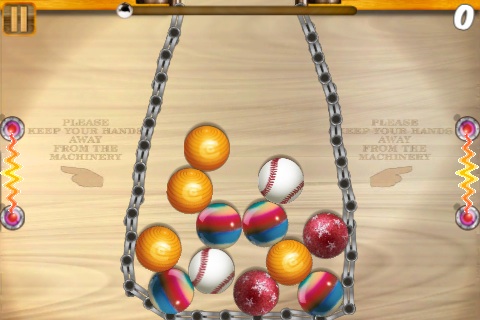 What makes this game so hypnotic is that while all the toy balls are the same size, they vary in weight and elasticity. As they fall there are unpredictable collisions between balls, between levers, and between balls hitting levers. The result is a classical toy ball dance, with realistic momentum, rotation, balance, bounce, sliding, action, and reaction. Each of the eight different balls is rendered in convincing detail, allowing the viewer to enjoy their rotation and interaction.
The player must swipe as many balls of the same kind as possible, while navigating in-level obstacles, labyrinths and mazes. Longer chains earn higher points, achievements and the coveted 3-star ranking! The more balls saved, the more that will fall in the level, making it a race against the zapper!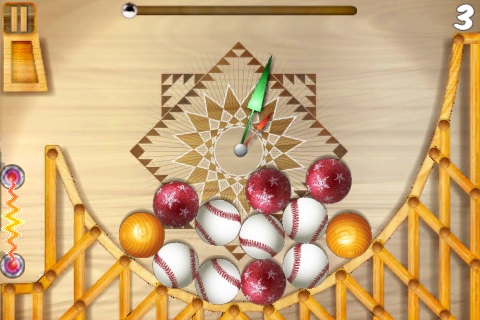 There are more than 30 dynamic wooden unlockable level boards, each with different obstacles to overcome and achievements to earn. What makes this game even more interesting and addictive is that it generates balls in a unique and unrepeatable way in each level. So, even if the same level is played more than once, the gameplay is totally different! The possibilities are endless with this creative physics based puzzler.
Feature Highlights:
Innovative game concept, Amazingly fluid and realistic physics
Totally different gameplay each time a level is played
The player must rescue three or more balls by swiping through them, Dozens of balls are onscreen, with more added every second
Eight different types of balls, each with its own mass and elasticity
Intuitive and super easy to pick up controls
Levels may be played over and over to reach a new high score for that puzzle
Balls bounce, slide, collide, rotate, and roll through wooden mechanical mazee, Balls must be rescued as quickly as possible to prevent any from falling into the electro zapper
Additional Feature Highlights of the full version:
30  fun and challenging levels with a smooth difficulty curve
Game Center achievements and leader-boards
Retina display support for the iPhone 4
Multiple music themes
Frequent level pack updates
"Toy Balls! is a totally new game concept that entertains the user from the very start of the game play", said Pericles Papageorgiou, Head of Cazual Games. "The casual nature of the game is perfect for iPhone, iPod touch, and iPad users seeking a quick hit of fun and action. We are confident it will be even more successful than our previous game, the best-selling Kodix code breaking game."
"Toy Balls! implements the actual physics of toy balls types like baseball, marble, wood, solid rubber, hollow rubber, eight-ball, dimpled rubber, glass, etc., with simple and accurate, game controls to navigate around the playing field", said Emilios Tsekouras, Head of Development for Cazual Games. "The game is fully optimized for each type of device and takes full advantage of the Retina display."
Pricing and Availability:
Toy Balls! Lite is a free game in the Apple App Store, in the Games category. Upgrade to Toy Balls! and Toy Balls! HD for $2.99 and $3.99 respectively. Both are featured in the 'What's Hot section for Arcade games. Toy Balls! Lite 1.0: https://www.cazualgames.com/games/toyballs.html
Powered by

Sidelines
Previous Post Setlist Metronome: The Best Musician Tool on the iPhone/iPad Gets Updated!
Next Post Asia's Top iPhone MMORPG Arrives on North American App Store