Iron Wars (iPhone) Game Review: Great Game, Not Sure Bout The Marketing
Take away the pellets and ghouls from the Pac-Man arcade game, replace the power-up with weapons and have more Pac-Men as enemies. House these all in an iPhone game and you'll have Appmania's Iron Wars. The game is a 3D top-down thumb-shooter and it's a glorious homage to FPS games but in a top-down, Pac-Man style.
For starters the AI got me thinking that I was in a match with other human players when I got into my first match on Iron Wars.  Players control a Pac-Man like character in over different arenas in a variety of staple FPS match types such as Deathmatch, Team Deathmatch and Domination. The AI, throughout the matches, performed admirably, behaving unpredictably like how a human player plays, and at times assisting and ganging up on me in Team Deathmatch.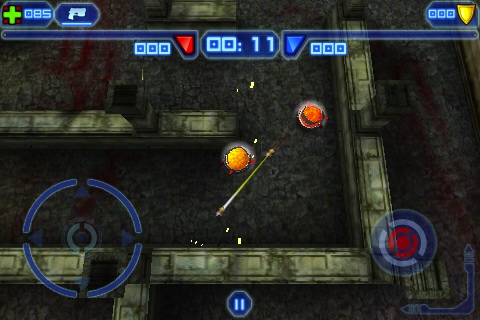 The arenas themselves have their own character, some come with open spaces and elevations, while others are literally mazes to navigate through. Power-ups in the form of weapons, health and armour can be found scattered throughout the levels. The controls complement the gameplay by being as simple as possible. Left virtual stick to move, and the right to shoot.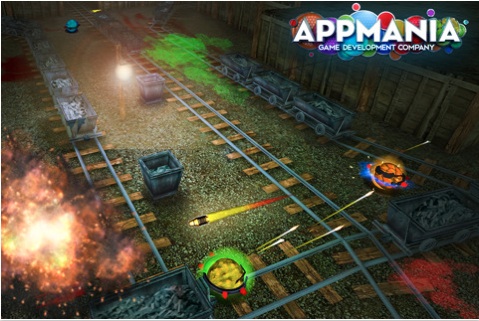 One thing I noted though, the screenshots of the game (one example is above this paragraph) in the App Store belong to camera angles that are impossible to set as the game camera is pretty much fixed on the iPhone. While I understand that "money shots" help sell a game, it shouldn't boil down to this. Or perhaps the screenshots belong to a different version of the game, probably the iPad, but what are they doing under the iPhone screenshot selection?
Anyways, dubious selling tactics aside, Iron Wars is a great game. Aside from the excellent single player Campaign and Quickplay matches, there's 4-player multiplayer as well. Nine Over Ten 9/10 awards Iron Wars with 4/5 STARS. RECOMMENDED.
Iron Wars is available on the App Store for USD 0.99, check it out over here: https://itunes.apple.com/us/app/iron-wars/id412445359?mt=8. A copy of the game was provided by the publisher to Nine Over Ten 9/10 for review purposes.
Powered by

Sidelines
Previous Post iPad Instrument Apps Make A Splash – Check Out The Videos!
Next Post Bargain PS3 Hits Not To Be Missed