Rebounce (iPhone) Game Review: Maddening Addiction
Rebounce for the iPhone is probably one of those games that I love and hate at the same time, and it's up there on the pantheon of the best games I've played on the iDevice. But before I get to that, some background on the game is needed. It's kinda like playing Tetris upside down.
You control a puck, launching it via the touch screen to hit marbles, hitting a marble of a particular colour will destroy other, same-coloured marbles connected to that particular marble. Gears on the other hand can only be destroyed indirectly by directing the puck to hit power-ups such as bombs.
The objective of the game while in Rush mode is to prevent columns of marbles and gears from reaching the top and by far this is the most exciting part of the game. Each level in Rush mode is time limited and hitting combos and power-ups are the best ways to wrack up the points. Points thresholds are divided to Bronze, Silver and Gold, and if players do well enough, they'll unlock bonus levels and other practice levels.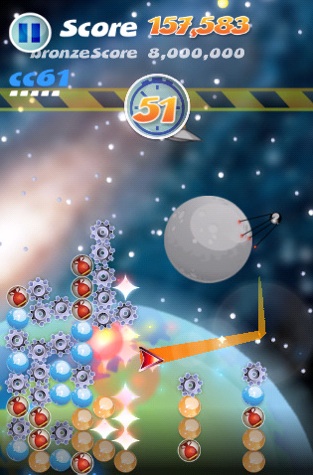 The Practice levels present themselves as puzzle levels and these are MADDENING, and it's the sole reason why I hate the game. Players are expected to clear the level with a finite number of moves (when it comes to directing the puck) and this is really difficult. I guess the developers realize this as well, otherwise they wouldn't have introduced an add-on purchase (99 cents) that will unlock ALL the levels.
I'm actually tempted to get this add-on, as I can't stand the Puzzle levels. Rush is where the all the fun is and if you were to ask me, I would say it's worth bringing the price of the game up to USD 1.89. The game also comes with a new Winter Pack (USD 0.99, add-on purchase) that brings more levels to the game. I just wish that developers will continue to add more Rush levels to the core game without additional charge. Romper Games Inc have a good thing going on here with Rebounce.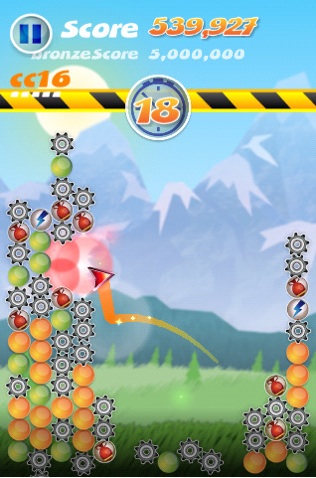 Rebounce is available on the App Store for USD 0.99. Check it out over here: https://itunes.apple.com/us/app/rebounce/id347801593?mt=8
Nine Over Ten 9/10 rates Rebounce at 4 out of 5 STARS. RECOMMENDED
Powered by

Sidelines
Previous Post Vision Thing Software's Ballywoo (iPhone) Game Plays Tribute to 1930s Pinball Machines
Next Post Toy Balls (iPhone) Review: When Bejeweled Met Luxor…