Untangle Space Out Pro (iPhone) Game Review
My, my, what a tangled web does that Untangle Space Out Pro for the iPhone weave. The game is a space themed puzzle game in which players move nodes around to untangle the neon rays used to connect the nodes. Untangling in this case means that one neon ray shouldn't have another ray (or more) overlapping/touching it.
I had plenty of fun in the Challenge mode, which has about 50 levels to unlock, these are pretty much set piece puzzles with the objective of improving your times. Even crazier still is the Arcade mode, this is practically an endless mode as each puzzle is generated randomly. You'd probably never play the same thing twice in Arcade, and that's really cool, making it well worth the USD 2 admission price.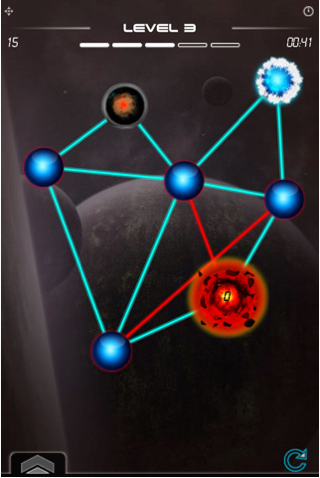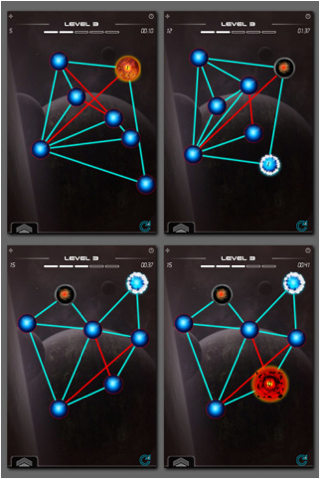 While untangling the web of neon rays is the main objective of the game, Untangle Space Out throws in several twists with Blaster and Freeze Orbs. Basically some nodes will blow up (changing the flow of the level) or freeze out, leaving them stuck in place (throwing your solutions out of whack). All of these is pretty fun, but fortunately, players can tap on nodes that about to freeze or blow up to stop them from doing so.
Untangle Space Out Pro is one of the more interesting puzzle games that I've seen in a while on the iPhone. Do enjoy the background music that is playing while you are solving puzzles.  Strange thing though, this is the second consecutive "notable" game in my review list that uses its very own global leaderboard. No love for Game Center I guess?
As mentioned earlier, Untangle Space Out Pro is available on the App Store at a price tag of USD 1.99. You can check it out over here: https://itunes.apple.com/us/app/untangle-space-out-pro/id393068616?mt=8. 4/5 STARS. RECOMMENDED.
Powered by

Sidelines
Previous Post Talking Carl Gets Brother Gugl To Do The Talking on the iPhone!
Next Post Jenga HD (iPad) Review: Jenga On The Go Anytime Anywhere