Jenga HD (iPad) Review: Jenga On The Go Anytime Anywhere
The initial impression I had when I first heard about Jenga HD for the iPad was that some table-top/board games should really be left alone. The game itself is one that tests the resolve,  patience and finger dexterity of players. The objective is to remove wooden blocks from any part of the tower and place them at the top of the tower, all these without causing the tower to topple over. Resolve and patience can certainly be tested in video games, but what about finger dexterity?
Jenga HD answers this with the help of the iPad's generous touch screen real estate. Using touch controls, players can at least imitate moves such as pulling and nudging the wooden Jenga blocks. As this is a physics based game, a pull in the wrong direction or on a piece that's being supporting too much weight can cause the tower to sway. Continue to pursue that course of action and the tower will come down. Having said that, it's interesting to note that there's plenty of tension while playing Jenga HD, much like playing the real thing.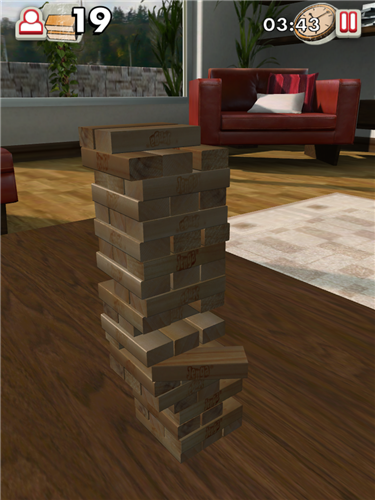 The game does make it easy for new players though. Wooden blocks that are highlighted in white when tapped are safe to be pulled or nudged out of position to be placed on top of the tower. Blocks highlighted in pink and red when selected are the ones to watch out for as care is needed to move these pieces.Players have almost a 360 3D view of the tower and the camera can be moved by swiping vertically and horizontally across the screen. Players can also zoom in and out to get a better look of what they are trying to do (hehe).
Jenga HD takes these basic gameplay mechanics and offer up two different gameplay modes with the first one being Classic. Players can take their time to remove blocks and stack them as high as possible. In the Arcade mode, players play against the clock; stacking combination of wooden blocks of the same colour will earn points and being quick earns players score multipliers. There is also a pass and play option so that you can pit yourself against 3 other friends.
While some of you can argue that this isn't a proper replacement for a real Jenga set, Jenga HD has one significant advantage, it allows players to play Jenga  (albeit virtually) just about anywhere. Have you tried playing real Jenga on a bumpy bus ride or on a cramped in-flight meal tray? I don' t think so, but with Jenga HD and an iPad, now you can!
The game is available for USD 4.99 on the App Store, you can check it out over here: https://itunes.apple.com/us/app/jenga-hd/id393106605?mt=8. 4/5 STARS. RECOMMENDED.
Powered by

Sidelines
Previous Post Untangle Space Out Pro (iPhone) Game Review
Next Post Ninja Bounce (iPhone) Announces 50% New Year Sale and iTunes Gift Card Contest