Balloonia (iPhone) Game Review: Excellent Amalgamation of Bejeweled and Pipe Mania
Professor Einstein, is that you? I found myself asking that as soon as Balloonia's (iPhone/iPod touch) mascot mad scientist came on screen. Mad scientist aside, Balloonia plays like a mix of Bejeweled and Pipe Mania. And surprisingly instead of getting a mongrel mix of gameplay elements, the game turns out to be really addictive and  fun to play.
The basic gist of the game is connect the pipes (air tubes) from the sources on the left, to the outlets on right. Once a successful connection has been made, the pipes involved in the connection will disappear ala Bejeweled and a bunch of random pipes will come down from above to fill up the space (again like Bejeweled). The pipes themselves can be rotate to make the connection.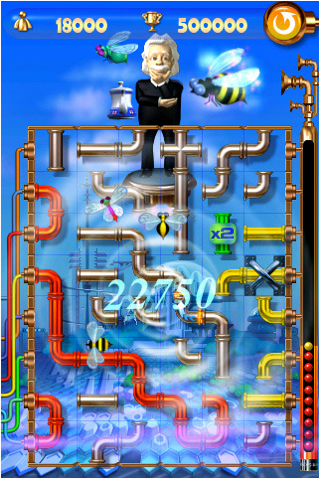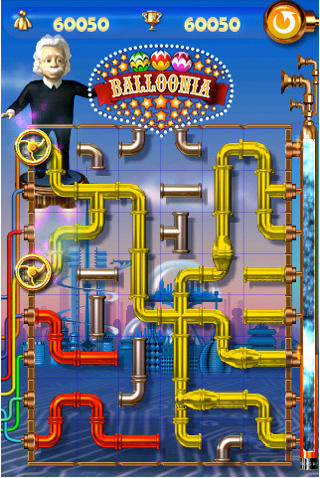 There are three game modes based on this premise. Classic basically means getting 60,o00 points per level before the time runs out in order to get another level, Deluxe on the other hand features pipes with multipliers, and  some of them are cannot be moved. Last but not least, Survival pits you against the clock with every successful move buying more time.
I like what I saw in the game, the 2D graphics were beautiful, whimsical even and complemented the game really well. The real star of the show is still the gameplay and I found myself sucked in for hours with the game (Classic is THE devil here). One thing is puzzling though that the developers, JVL, didn't go for Game Center and instead choose to implement their own global leaderboards.
In any case Balloonia is one of those games that succeeds beautifully in terms of graphics and gameplay. It's available on the App Store for 99 cents. Check it out over here: https://itunes.apple.com/us/app/balloonia/id295533530?mt=8. 4/5 STARS. RECOMMENDED.
Powered by

Sidelines
Previous Post What Did You Get For Christmas?
Next Post Talking Carl Gets Brother Gugl To Do The Talking on the iPhone!