Disney Mobile Releases Tap Tap Revenge 4, Announces Discounts For iPhone Games
Disney Mobile is on a roll this Christmas season, following up their special holiday pricing for their premium iPhone apps with the release of Tapulous' (a division of Disney Mobile) Tap Tap Revenge 4. Check out the press release for the launch, which includes the complete list of Disney Mobile apps discounted to USD 0.99 each, right after the promo video for TT4.
Tap Tap Revenge 4 Launches on App Store Just in Time for Christmas Popular App Franchise Poised to Rule the Holiday Charts with Exclusive New Tracks and Social Features
PALO ALTO, Calif.— Tapulous, part of Disney Mobile, is extending its wildly popular Tap Tap Revenge franchise in time for Christmas with the launch of Tap Tap Revenge 4, which is now available for free on the App Store. Featuring new tracks from Linkin Park, Katy Perry, Benny Benassi, My Chemical Romance, Kid Cudi, Justin Timberlake, Daft Punk, Train, Far East Movement, Hinder, Edward Maya, Selena Gomez & the Scene, Florence and the Machine, Cee-Lo, Nicki Minaj, Young MC, and Bad Religion, the flagship music rhythm game continues the tradition of showcasing new hits from today's biggest musical acts.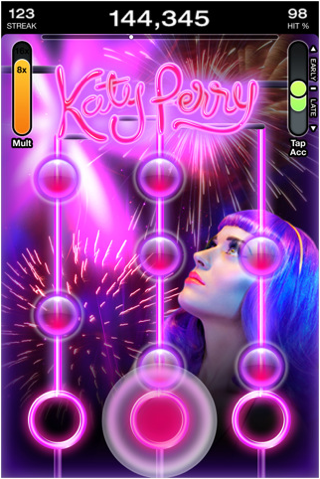 Tap Tap Revenge 4 introduces an all-new arcade mode, high-resolution Retina Display graphics and Game Center integration, allowing players to challenge others, share scores via Facebook, Twitter and email, "like" a track in the Tapulous network and see which tracks are "trending" in the community. The Tap Tap Revenge franchise that helped define the music game category on the App Store and is an enormous hit with fans, having earned 40 million app downloads, 25 million songs sold and one billion games played to-date.
"Tap Tap Revenge 4 is a triumphant new addition to the hugely successful Tap Tap Revenge franchise," said Bart Decrem, senior vice president and general manager, Disney Mobile. "Tap Tap Revenge has been a top ranked app over the past two holiday seasons, and this Christmas we're excited to offer fans and new players alike some great new features, awesome free tracks and the ability to connect to Facebook and Twitter."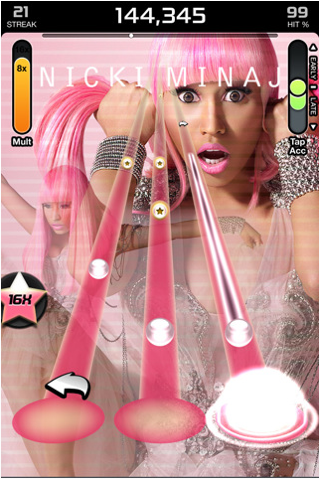 "We're always looking for innovative ways for people to engage with our music," says Tap Tap Revenge 4 feature artist Linkin Park's Chester Bennington. "Tap Tap Revenge offers a massive platform that's at the forefront of music games and apps." Tap Tap Revenge 4 features a wide array of free and premium song packs and artist bundles available through in app purchase as well as a number of free song titles and popular indie channels.
A sample of the new music content includes:
Linkin Park six-song bundle featuring "Crawling," "Breaking The Habit," "The Catalyst," "What I've Done," "Faint" and "New Divide"
Katy Perry 10-song bundle featuring "California Gurls," "Circle The Drain," "Firework," "Hot N Cold," "I Kissed A Girl," "Last Friday Night (T.G.I.F.)," "One Of The Boys," "Teenage Dream," "Thinking of You" and "Waking Up In Vegas"
My Chemical Romance four-song bundle featuring "Welcome To the Black Parade," "Teenagers," "Helena" and "The Only Hope For Me Is You"
A dance bundle that includes "Forget You" by Cee Lo, "Night By Night"  by Chromeo, "D.A.N.C.E." by Justice, "I'm Good, I'm Gone" by Lykke Li, "New Shoes" by Paolo Nutini • Benny Benassi's "House Music"
Nicki Minaj two-song bundle featuring "Right Thru Me" and "Your Love"
Justin Timberlake bundle featuring "Rock That Body" and "SexyBack (ft. Timbaland)"
Nelly two-song bundle featuring "Just A Dream" and "Country Grammar"
Far East Movement's "Rocketeer" and "Like A G6"
Florence and the Machine two-song bundle featuring "The Dog Days are Over" and "Cosmic Love"
Kid Cudi two-song bundle featuring "Erase Me" (feat. Kayne West) and "Day N Nite (Crookers Remix)"
Selena Gomez & the Scene bundle featuring "Naturally" and "A Year Without Rain"
Exclusive new hit Indie Channels for free game play and browsing featuring EPITAPH, VAGRANT, SONGS Music Publishing and HUNNYPOT. Key artists: Bad Religion, Alkaline Trio, Tokyo Police Club, Thrice, DJ Wool, Teenage Bottlerocket.
Tap Tap Revenge 4 is available for free download on the App Store at: https://itunes.apple.com/us/app/tap-tap-revenge-4/id405373266?mt=8
Select Disney Mobile Apps on Sale for $.99 during the Holidays
Tron: Legacy
Toy Story Mania
Phineas and Ferb Arcade
Split/Second
Tap Tap Revenge Apps on Sale for $.99 during the Holidays
Lady Gaga Revenge
Lady Gaga Revenge 2
Katy Perry Revenge
Linkin Park Revenge
Justin Bieber Revenge
Metallica Revenge
Coldplay Revenge
Nickelback Revenge
Nine Inch Nails
Weezer
Nirvana
Dave Matthews
Kings of Leon
Tap Tap Dance
Powered by

Sidelines
Previous Post Berzerk Ball (iPhone) Game Review: Nerd Bashing!!
Next Post Demolition Master: Space Quest (iPhone) Game Review: It's Dynamite!