Hanto (iPhone) Game Review: Puts a Capital H in Hardcore Strategy
Not everyday you get to review a game with a 21-page in-game manual. But to be fair, Hanto seems be a complex board game on the iPhone and the amount of detail that went into the manual is something be admired. The game itself however is a bit of an enigma, with the gameplay mechanics being rather oddball. For starters, it plays a little like "Go", except that it is played with hex shaped pieces, with the objective of  "surrounding" the opposing player's "Queen" piece, otherwise known as the Butterfly.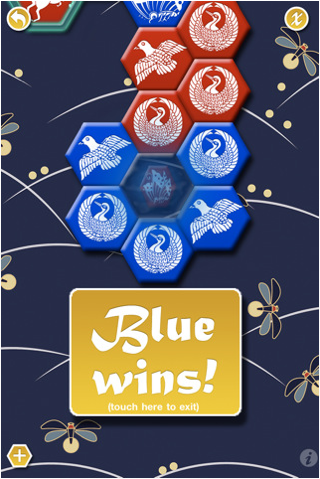 Assisting the player in this task are several other pieces, such as the Dove, the Sparrow, the Horse and the Crane. Some of these pieces have the ability to jump across a number of hex tiles, while some can only walk. These pieces cannot be moved until the Butterfly is placed on the board and this must be done before turn 4 (remember that I say the mechanics are a little oddball?). On the plus side, the pieces surrounding the Butterfly need not be your own pieces, the opponent's pieces surrounding his/her Butterly can prove to be their downfall.
Even at the easiest level I learned that the game is not a push-over. I've been into a couple of ties (whereby both our Butterflies got surrounded at the same time) and on several other occasions, I failed to move my pieces away from my Butterfly to avoid being surrounded by my own tiles, all the AI had to do was to plug in the gap with a single tile and it was game over.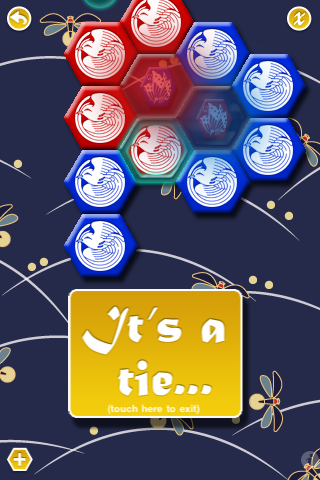 While the game tries to be beginner friendly, all with the manual and info tips, Hanto's target audience lay in the hardcore strategists crowd and they should find themselves at home with this game. There's also practically nothing to lose as the full game is available free of charge on the App Store. Check it out here: https://itunes.apple.com/us/app/hanto-free-amazing-hex-board/id407653571?mt=8. HIGHLY RECOMMENDED (only the hardcore need apply)
Powered by

Sidelines
Previous Post Symbol6 Redux (iPhone) Game Review: Free Games Don't Get Better Than This