TeamLava Brings Free-To-Play Treasure Hunting with Treasure Story (iPhone/iPad)
TeamLava is on a roll with the release of a new addition in its "Story" series of games, title "Treasure Story" which focuses on treasure-hunting. I would have lost count on the number of games released this year by this prolific studio specialising in "free-to-play" games on the iPhone/iPad, but hey, check out the press release below for more details:
Dig Into Groundbreaking New Adventure Treasure Story, Out Now on the App Store: Escape the winter blues in the latest installment of TeamLava's megahit "Story" series.
SAN FRANCISCO – December 16, 2010: The leading social game developer, TeamLava, today announced the release of its new loot-hunting game for iOS devices, Treasure Story. The sixth title in TeamLava's chart-topping social game series, Treasure Story invites players to explore lush tropical islands, digging for treasure and collecting rare artifacts to trade for in-game prizes. Treasure hunters can set their metal detectors aside to design and customize their very own tropical island.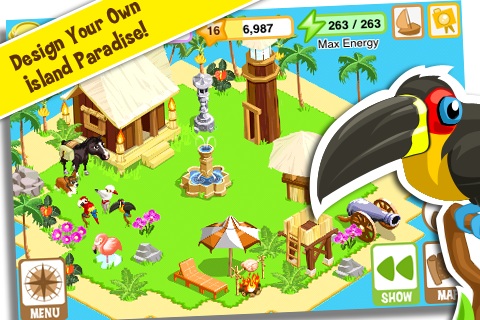 Food including crab, wild boar, fruit and other delights can be cooked on bonfires and eaten to build energy for digging, while cute animals and tropical island scenery boost experience and increase energy potential. Treasure Story also lets players share their slice of paradise with friends via Facebook Connect. Free to download, deceptively simple and richly social, Treasure Story is designed to deliver exciting, accessible gameplay for players of all ages.
Treasure Story is TeamLava's most ambitious title to date. Rather than managing hungry customers, players start on the beach and venture inland to the jungle, unearthing valuable items as they go. Hunting for buried treasure may be lucrative, but it's no easy task. To level up faster, players can build a community via Facebook integration and gifting, letting them share their lush hideaway with friends and family. Like previous chart-topping Story games, Treasure Story is free to download and play and offers a persistent user profile with attributes to level-up and secret unlockable items. Pack up your flip flops and get to digging – new content will be released EVERY WEEK so the game continually gets even better!
Treasure Story Features:
Simple and addictive treasure-hunting gameplay; you never know what you'll dig up next!
Design your island paradise with buildings, animals, flowers and tropical scenery.
Retina Display enabled for bright and beautiful tropical visuals.
Share your island and earn extra-special tips from friends
Invite your Facebook friends to be your neighbors, then gift items and help each other progress.
Support for a persistent user-profile to save player progress; Game Center integration coming soon.
It's totally FREE, with fresh new content every week!
The sixth game in TeamLava's explosive Story series, this treasure-hunting title follows culinary chart-toppers Bakery Story and Restaurant Story. All six games have entered the Top 5 Free Games charts in the App Store.Treasure Story is designed for iPhone, iPod touch, and iPad. A network connection is required to play. It's a free download and is available now on the App Store: https://itunes.apple.com/us/app/treasure-story/id400501313?mt=8
Powered by

Sidelines
Previous Post Create Your Holiday Greeting Cards with Build-a-Card (iPhone/iPad)
Next Post Buy 'Em, Gift 'Em, Check Out The iPhone Games On Sale This Holiday Season