Sonic Slug Bricks: Bringing Voice Based Controls to the iPhone
Voice controlled games have been around for quite some time, with the Nintendo DS being home to games that require you to shout or blow into the microphone. I don't see much of this type of game on the iPhone, but if one comes along, it surely deserves coverage on Nine Over Ten 9/10. Check out the gameplay video below for Sonic Slug Bricks, a new brick-breaker game for the iPhone that uses voice input to energize weapons and trigger power-ups. Players can also create their sound effects and download sound effects created by other players! Cool eh?
Charlottesville, Virginia – glimmerWave software today is pleased to announce the release of Sonic Slug Bricks Free 1.0.0, a free version of its groundbreaking sound-driven arcade game for iPhone and iPod touch. With neon graphics, sound controlled weapons and Game Center leader boards, Sonic Slug Bricks brings immersive sonic gaming to iOS. Sonic Slug Bricks redefines arcade style gaming with its innovative use of audio. Players use voice input to energize projectiles and trigger power ups. The game is simple to learn but challenging to master. Players use their Slug to protect precious vegetables from abduction while directing a ball to destroy brick blockades and enemy spaceships.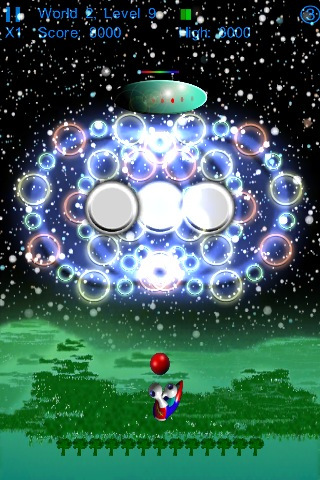 "Sonic Slug Bricks lets you use your voice as a third hand when the play gets intense" says Patrick Keith-Hynes, CTO and founder of glimmerWave software. "You can add energy to the ball, time when a bomb will blow up or shoot slime while still using your fingers to direct the ball." All of the sound-activated power ups can also be triggered with a quick shake of the device.
Players can enhance the value of each brick they destroy and increase their scores by catching falling vegetables. Slug Bricks Free supports Game Center leader boards for each of the worlds. There are seven Slug Worlds to unlock and explore as well as Survival mode which presents an endlessly replenished blockade. Explore the future of interactive sonic gaming with Sonic Slug Bricks!
Device Requirements:
iPhone, iPod touch and iPad
Required iOS 3.0 or later (iOS 4.0 Tested)
39 MB
Pricing and Availability:
Slug Bricks Free 1.0.0 is available free exclusively through the App Store in the Games category. Check it out over here: https://itunes.apple.com/us/app/slug-bricks-free/id405878589?mt=8
Powered by

Sidelines
Previous Post AppMania Brings Promising Iron Wars to the iPhone and iPad This December
Next Post Geometrica Wallpapers (iPhone) App – Free to Download Today!