Zoo Rescue (iPhone) Game Review: Tapulous Surprises in a Cute Way
I always thought that Tapulous only made rhythm based games, so I was pretty surprised when I got the press release for Zoo Rescue, their latest release for the iPhone/iPod touch. A  lunar lander kind of game, players pilot their helicopter to rescue zoo animals stuck at the bottom of cliffs and caves. The controls are really simple, tilt left or right to move the copter and tap on the screen to step on the gas and have lift.
Each level have their own set of challenges. The helicopter is equipped with a rope that not only is it used to rescue the animals, but also to lift obstacles such as tree logs out of the way. Players can rescue multiple animals at the same time but you better make sure that the copter is able to lift them without consuming all of your fuel. Players will also need to exercise caution to not crash the copter against cliff walls as each bump takes away one life (out of three), also, sharp points can take out the rope and it's game over. Bumping animals against cliff walls and floor will only result in points deduction.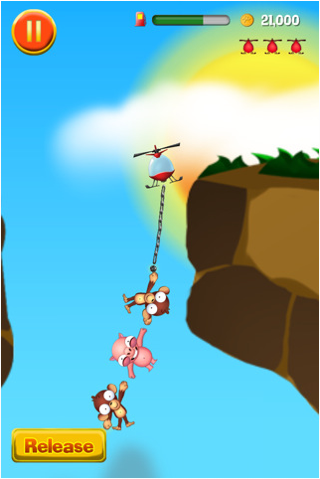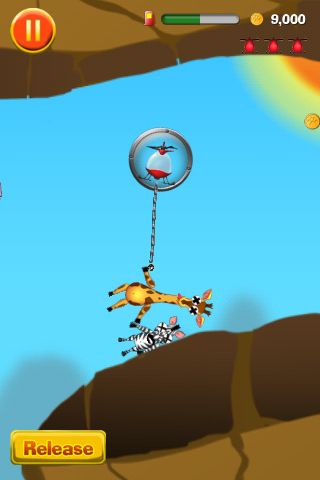 Rescued animal will need to be dropped off at the landing pad above the cliff. Power ups such as shields and extra gas are available throughout a level, as you'll need to make several trips down to rescue all the animals. Coins (which contributes to the points). I like the fact that the game is really easy to pick up and play, with the game encouraging you to do better as players are rated with stars at the end of each level. Kids especially will have fun with this (the animals are cute, and I like the effect when you accidentally knock them out) and I can appreciate the addition of Game Center for some friendly competition with the availability of Online Leaderboards.
Zoo Rescue has 20 levels with Tapulous promising for the release of more levels in the near future. That's a lot of game for a 99 cents app. The game is now available on the App Store, so check it out: https://itunes.apple.com/us/app/zoo-rescue/id396514230?mt=8.
RECOMMENDED
Powered by

Sidelines
Previous Post Now Serving Ice Cream: Zombies Ala Mode (iPhone) Game Review
Next Post Super Blast 2 (iPhone) Game Review: Get This Shmup Now