Frank Further (iPhone) Updated With Brand Yule Log Down A Hallway Level
Fans of the sausage-launching game on the iPhone, Frank Further can rejoice as the developers Metaversal Studios have come up with update 1.2 which introduces a new gameplay mode just in time for the winter holidays. Check out the press release below for more details:
METAVERSAL STUDIOS "FRANK FURTHER" 1.2 UPDATE INCLUDES BRAND NEW LEVEL "YULE LOG DOWN A HALLWAY"
NOVEMBER 30, 2010–Metaversal Studios is announcing the release of the latest update for the iPhone/iPod Touch game "Frank Further". Version 1.2 of "Frank Further" introduces a new hallway level, called "Yule Log Down a Hallway", just in time for the winter holidays!
The addition of "Yule Log Down a Hallway" to the game's menu means that "Frank Further" now serves up five delicious fast-­-paced levels for one low price. "Remix" updates the graphics of the original "Hot Dog Down a Hallway" game; "Retro" takes the game back to the roots of the industry with graphics inspired by the Atari-­-2600; "Clay" squishes the game into the third dimension; and "FrankenFurther", the Halloween episode, is our very own nightmare before Christmas. "Yule Log Down a Hallway" refreshes the cartoon-­-style graphics of "Hot Dog Down a Hallway" while adding a festive holiday flavor of its own. Watch out for all new varieties of obstacles, traps and speed boosts themed around Christmas, Hanukkah and Kwanzaa.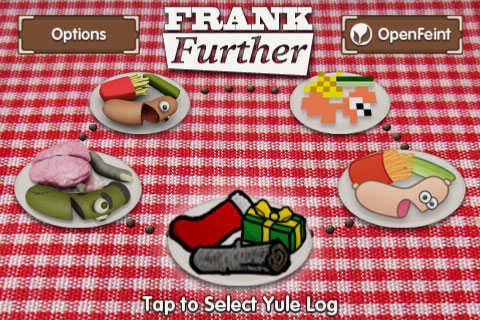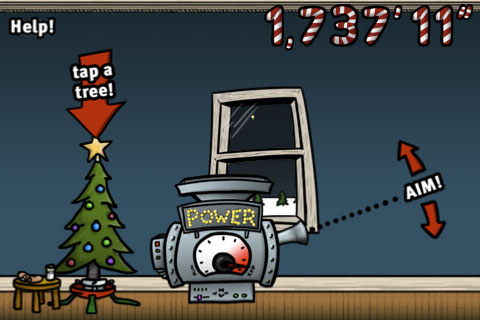 Version 1.2 of "Frank Further" also adds new OpenFeint achievements to unlock and a new "Yule Log Down a Hallway" high score leaderboard where users can claim bragging rights and show off their log lobbing skills.  Of the update, Lead Game Designer Jay Laird says, "We loved the original squiggly look of 'Hot Dog Down a Hallway' and we wanted to bring it back as a holiday gift to the fans of the original game who have continued to support us by buying 'Frank Further'."
Jay Gelman, president of Alliance Distribution, parent company of Metaversal Studios, says, "We're excited to see 'Yule Log' included as a part of 'Frank Further', giving our players even more gameplay for the same low price."  "Frank Further" Version 1.2 is available in the iTunes App Store for just $2.99 (https://itunes.apple.com/us/app/frank-further/id356851197?mt=8)and includes all five "Frank Further" gameplay levels. Other iOS device games from Metaversal Studios include Peel It, Bad Apples, Shave Me! and GameRoom.
Powered by

Sidelines
Previous Post Flash Game Hit Homerun in Berzerk Land Coming to iPhone As Berzerk Ball
Next Post Team Lava Releases Fifth in Acclaimed Story Series with Bakery Story (iPhone)