Damian Filigree: The Book of Thoth (iPhone) Game Review: Just What The Doctor Ordered
What do you think of a game featuring an Egyptian mummy chasing after you like a relentless force? It sounds tough, doesn't it? Well, how about being chased and at the same time solve puzzles every step of the way? You'll need to be up to that challenge with some quick finger work when you play Damian Filigree: The Book of Thoth, Bloomsix's latest game for the iPhone/iPod touch platform as that's exactly what it'll dish out.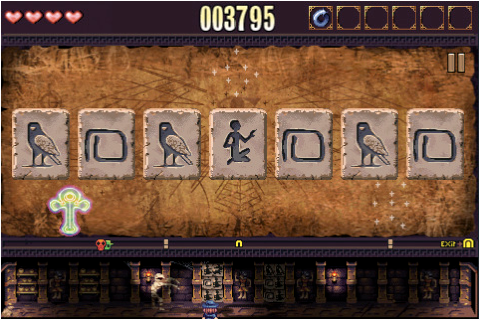 Truth to be told, it took me quite some time to get a hang of the game, no thanks to the broken tutorial. Playing the titular role of Damian Filigree, you'll need to clear out the puzzles on the walls in the corridors of a pyramid in order to keep moving forward. The puzzles are essentially match-3 puzzles and involves moving stones around in order to match 3 or more stones of the same pattern. While it's pretty easy to do so, players will need to be some thinking in order to trigger combos (lining up the stones for consecutive matches) and chains of combos as these will grant you treasures necessary to tackle traps in each level.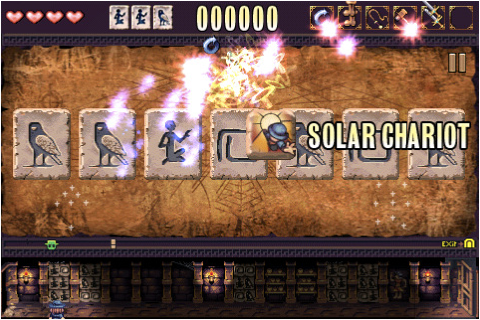 You have to do all this while a mummy is chasing you through the levels, proving true the adage: you can run, but you can't hide. As the level progress, the number of stones in which you'll need to sort out increases as well.  This tension and challenge-filled gameplay is actually pretty fun, just exactly what the doctor ordered to refresh a drab formula which has seen countless of factory generated clones on the App Store. Damian Filigree: The Book of Thoth may have one or two issues and a high learning curve, but it's one experience that you do not want to miss out, especially if you are a fan of puzzle games. The game supports both Game Center and OpenFeint whe it comes to online leaderboards and achievements.
Damian Filigree: The Book of Thoth is available on the App Store for just USD 0.99. Check it out over here: https://itunes.apple.com/us/app/damian-filigree-book-thoth/id397757153?mt=8. RECOMMENDED.
Powered by

Sidelines
Previous Post I've Just Finished Building An ARC-170 Starfighter
Next Post Apple's iPad Officially Launched in Malaysia: Queues Never Materialize