I've Just Finished Building An ARC-170 Starfighter
I like both Star Wars and Star Trek. Both are well-loved space-based sci-fi franchises, and while both share similarities (iconic space ships, interesting leading men and women), both diverge in terms of "setting". Star Wars is perceived as a fun, adventurous romp through space, where as Star Trek, has all the seriousness of a Sim-something game, or Civilization, in space.
It's the fun part as well as continuity that are the main reasons why I keep re-watching Star Wars movies, with my favourites being Episode III and Episode V. I think my brother knows this as well and got me a LEGO version of an ARC-170 Starfighter for my birthday. This is the precursor to the X-Wing and it saw plenty of action in the Clone Wars. It took me quite a while to assemble it, more than an hour, but the results is a pretty incredible looking model with moving S-foil attack wings and missiles!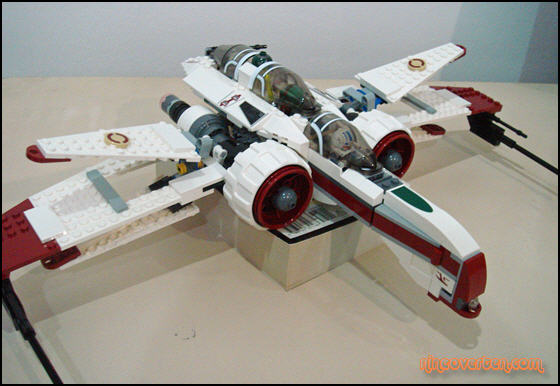 I took a picture of it sitting on top of a paperback novel (Hunters of Dune to be precise), to give an idea how big this thing is. It's huge, and way bigger than the Titanium series Ultra Diecast Slave 1 (by Hasbro) that I have hanging around on my bookshelf. Now if someone can get me an X-Wing…
Powered by

Sidelines
Previous Post Fruit Ninja (iPhone) Game Review: Will Make You Hungry For Fruit Salad
Next Post Damian Filigree: The Book of Thoth (iPhone) Game Review: Just What The Doctor Ordered