Fruit Ninja (iPhone) Game Review: Will Make You Hungry For Fruit Salad
This might sound a little weird, but I found myself drooling when I was playing Fruit Ninja on the iPhone. Maybe it's due to the fact that I like eating fruits and all the slicing and dicing of fruit that I was doing in the game triggered hunger pangs. If you are unfamiliar with the game, basically it will have you chop up fruits appearing on the screen; and depending on what game mode you are actually on, avoid chopping up the occasional bomb.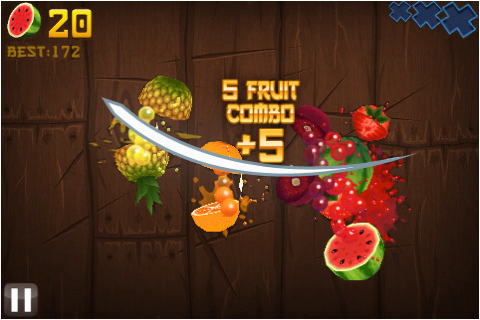 Classic Mode will require you not to miss any fruit as each fruit missed will take up one life (out of three); it's three strikes you out. Reaching points milestones will reset the number of lives consumed back to 0. True to it name, the Zen mode lulls you into a less stressful gameplay in which you are required to chop as many fruit as you can, with no lives penalty, no bombs and a 99 second time limit. The Arcade mode is the live of the party, with 60 seconds and all kinds of power-ups to activate. I have not tried the Game Center Multiplayer mode but the premise sounds cool.
As far as I can tell, progress in the Classic Mode unlocks stuff like additional blades. Some glow red, some glow different colours everytime you strike and the one I'm using now, emits a gold colour. The gameplay never fails to amaze me. Cutting fruit earns points, but getting critical strikes and hitting out combos allow for more points, essential skills to pick up when you are chasing leaderboard positions made available by Game Center, likewise for Achievements as well.
I find it very hard to fault Halfbrick Studios games (click here to read my review on Age of Zombies) and this trend continues with Fruit Ninja, mainly because it's fun to play and bloody addictive. Fruit Ninja is available on the App Store for just USD 0.99, check it out over here: https://itunes.apple.com/us/app/fruit-ninja/id362949845?mt=8. HIGHLY RECOMMENDED.
Powered by

Sidelines
Previous Post Black Friday Video Games Shopping? This App Is Going To Help You (Android/iPhone)
Next Post I've Just Finished Building An ARC-170 Starfighter