Age of Zombies (iPhone) Review: Can't Get Enough of Steakfries and Zombies
If you have added me on Game Center (zorocaster), you would have noticed that I've been playing a lot of Age of Zombies lately. A thumb shooter for the iPhone, the game is simply addictive. The virtual analog stick on the left controls protagonist Barry Steakfries' movements while the right analog stick fires whatever weapon he can get his hands on as he tries to fend off hordes of…wait for it…zombies. LOL
The feeling of getting swarmed by zombies out for your brains and blasting out of the horde with a shotgun and a couple of grenades never gets old. Age of Zombies serves up plenty of action across several arenas. The story mode will have you battling through hordes before facing off with a boss zombie at the end of each level. Once completed, the level will be unlocked for an endless mode known as Survival.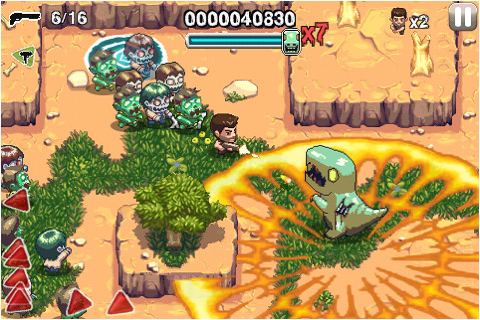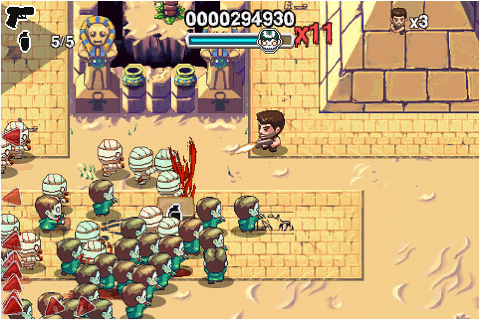 Weapons can be found strewn all over on every level and while Barry is armed with his trusty pistol (with unlimited ammo), he can pick up stuff like shotguns, bazookas, flamethrowers, miniguns, SMGs, sniper rifles and other stuff. Several of the Game Center achievements are weapons dependent, with a total of 26 achievements up for grabs. Online leaderboards are also provided for and this is one of the reasons for me to continue playing the game even after finishing the story mode.
If you have not tried out Age of Zombies, you should really give it a go. It's easily one of the more challenging ,addictive and funny (Barry is full of comedic dead-pan lines) games on the iPhone and it's now available on the App Store for USD 2.99: https://itunes.apple.com/us/app/age-of-zombies/id395627741?mt=8. HIGHLY RECOMMENDED.
Powered by

Sidelines
Previous Post Disney Mobile's Black Friday Promotions for iPhone/iPod touch/iPad Apps Starts This Friday!
Next Post Hamburger Hunter (iPhone) Game Review