Jury Shortki Releases Towers vs. Dragons for the iPhone/iPod Touch
Looks like another Tower Defense (my favourite genre) hits the stands on Apple's App Store. Jury Shortki has just released Towers vs. Dragons v.1.1.1 for the iPhone. Check out the press release below for more information as well as screenshots:
Towers vs. Dragons 1.1.1 for iPhone Offers Unique Defense Game Fun
Jury Shortki today released Towers vs. Dragons 1.1.1 for iPhone, iPod touch and iPad users. Towers vs. Dragons combines tower defense and line drawing to offer users an amazingly fun gaming experience. Players can draw traps, build towers and harvest mana as they work their way through the game, killing as many flying dragons as they can. Each of the game's fifteen levels introduces new elements for slaying hordes of dragons and defending the kingdom. Game Center ready.
The objective of the game is to protect the kingdom of Mannasgard from dreaded, killer dragons. Players are given an arsenal of fun and powerful weapons for combat, as well as tools for harvesting the life giving mana. There are fifteen levels in Towers vs. Dragons. When a player makes it to the next level, they are introduced to new elements, which keeps gameplay fresh, interesting and fun.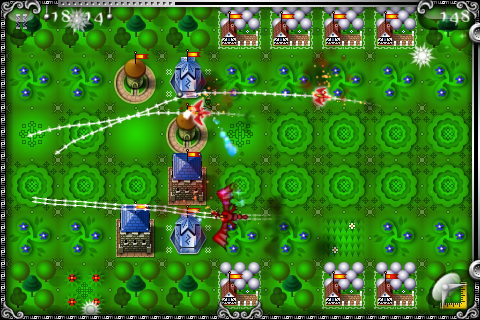 Towers vs. Dragons features:
Great interface, attractive and easy to use
Build towers and mana factories
Harvest mana
Spectral Lines of Force suck in unsuspecting dragons
15 challenging levels
3 modes of survival
Rich arsenal of weapons
Awesome background music, composed by Mike Weiser (ASCAP)
Tower vs. Dragons is now available from the App Store for USD 0.99: https://itunes.apple.com/us/app/towers-vs-dragons/id392015311?mt=8
Powered by

Sidelines
Previous Post ElementalMonster TD (iPhone) Game Review: Excellent Cut-Priced TD With New CCG Tricks
Next Post Cake-o-Rama (iPhone) Game Review: Infuriating, Disappointing