VANQUISH (PS3) Review: All-Out Combat in Space (Station)
I remember reading about Platinum Games' VANQUISH in the April 2010 issue of EDGE UK, and the suit that main character Sam Gideon was wearing was definitely a standout. Full of Japanese mecha overtones, I found out over 5 hours of gameplay (yup, I crunched for this game) that the suit was the heart and soul of the game. But for starters, lets get the plot out of the way. Set in the distant future, the Reds have taken over an orbital platform with a nasty microwave beam, using it to make pop-corn out of San Francisco. The player character, Sam, along with his really cool suit, is tasked with a whole bunch of U.S troops to take the fight to the Reds on the orbital platform.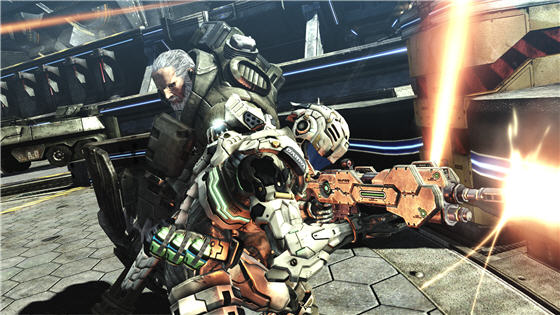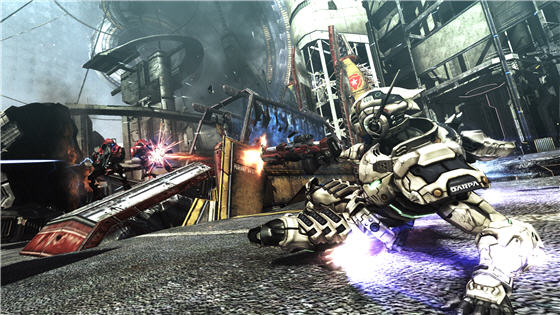 With the plot out of the way (it's pretty cookie cutter, with the obligatory plot twists or two), it's interesting to note that the suit brings about an amalgamation of abilities (well gameplay elements borrowed from different games) and implements them well. First there's the super slo-mo triggered near death (or manually) which at the same time increases accuracy. And then there's the boost, allowing Sam to move at super fast speed. All these are balanced by the fact that the suit overheats when these abilities are triggered.
These abilities make combat a really satisfying experience. The suit gives Sam some powerful melee attacks, pair these with super speed and you can get into enemies' faces in no time. If you are not into that, look out for how Sam transitions from one weapon to another (it's like watching a cool transformation sequence instead of a traditional weapons swap). One interesting note is that weapons are actually upgradeable. Pick up enough bazookas and you'll eventually have a weapon with reduced locked on time and delivers much more damage with a larger blast radius! All these does make you feel like a super soldier, which is kinda weird considering Sam is a DARPA researcher.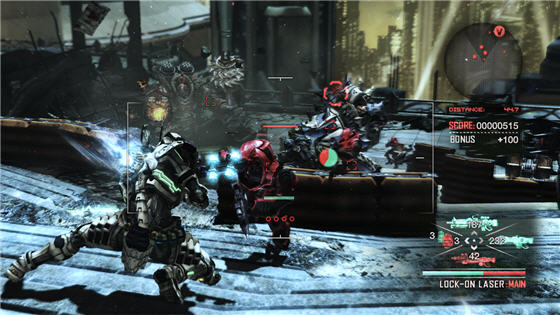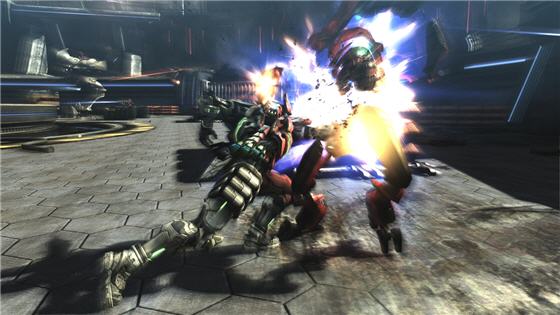 On the subject of combat, there's plenty of robot violence in VANQUISH. I would like to use the word visceral to describe it but it seems that while the US still relies on flesh and bone for its armed forces, the Reds took a step up and guarding the entire facility are nothing but ROBOTS. This is a pretty good call as some of these fellas represent some of more interesting foes that I've seen in a game. Each robot blows up rather satisfyingly when destroyed but it's the boss robots and later game robots that take the cake.
I'll try to keep the spoilers to a minimum, but the first robot that you encounter is a giant spider bot that actually transforms into a gigantic humanoid robot (with a huge laser on its chest and plenty of missiles). The boss robots in Vanquish all have their signature instant-kill moves and you'd best recognise the patterns in which they start to initiate these moves (and get away from them). One of the more memorable rank-and-file robots will have you forgo weapons and use melee attacks instead as they are the only way to damage it.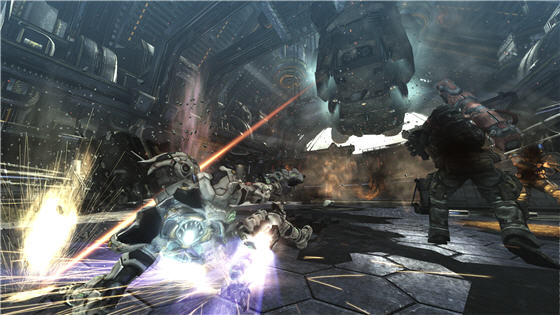 In VANQUISH, you'll get the feeling of moving from one firefight to another as you fight through the orbital platform. The levels are nice bite size affairs and while there are some boring corridors, there are plenty of cool moments, with most of them in battle. The game's graphics engine handles this with gusto, rendering levels and characters beautifully (especially Sam's suit) and my only complaint is while the game looks pretty, there are just too many things going on at one time, especially in firefights. While you can't fault the game for throwing down the gauntlet with plenty of enemies and massive bosses, it would have been nice to have markers on enemies heads, making them easier to spot since they love to shoot at distance :P.
Completing the game on normal difficulty netted about 21 % of the trophies available and there's plenty more to gain if you were to start of on hard. There's even one for NOT DYING. Achievement whores or sado-masochists should feel at home here. Needless to say, I had a lot of fun with VANQUISH over the weekend. It's a short game but it's an all-out action game worthy of attention. Vanquish is now available for the Sony PS3, and the Xbox 360. Recommended.
While you are at it, check out what the guys at Sega Europe have created in conjunction with the launch of VANQUISH. It's a web application featuring that orbital platform from the game. All you need to do is enter a valid UK postcode….and watch the resulting fireworks :P:
Powered by

Sidelines
Previous Post Call of Duty: Black Ops Give Away Announced!
Next Post LawnMowerKids (iPhone) Game Review: Casually Excellent