LawnMowerKids (iPhone) Game Review: Casually Excellent
Multitasking seems to be the flavour of the month when it comes to games these days. I just finished playing three different iPhone games, each of them requiring players to focus on multiple..things (for lack of a better word)..at the same time. First was a Tower Defense game which featured multiple paths of creeps, the second was a falling block game with ALOT of block falling about the same time, and last but not least, LawnMowerKids by Swedish developers Dohi Sweden.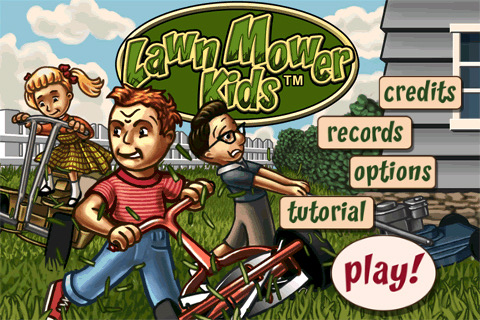 The concept of busy work in a game isn't something that developers normally include in a game since they would rather focus on a pretty narrow path, especially in casual games. But when put into context, what fun there is having to control just one player character on a lawnmower, while you can have three of them instead! Yup, LawnMowerKids will have you controlling three kids on three different types of lawnmowers, cutting grass while beating the clock.
Each lawn, or level, presents a different kind of challenge. Some are just huge, while some feature flowers (which you are not suppose to cut), pets (which can cause some of the kids to crash) and other obstacles like neighbourhood kids playing football. The three kids, Tom, Nancy and Tim come with different abilities that deal with some of these obstacles and players will have to juggle which kid gets to cut which part of the lawn. Sometimes, it boils down to a matter of timing and luck as well.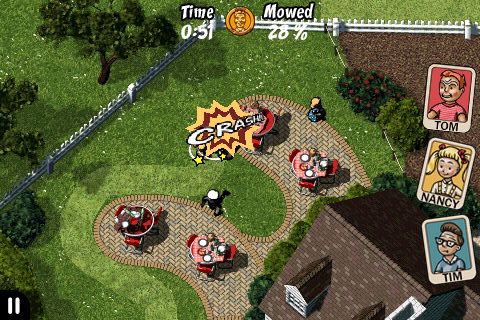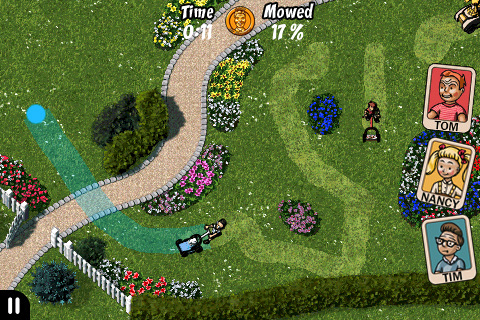 The touch controls are pretty easy to learn, just tap on one kid and then drag the path in which he or she is supposed to follow. The level ends when the completion counter hits 100% but it's game over if you go over the time limit. Medals are awarded  based on the completion time and there's a nice touch in which the game displays how close you are (in terms of seconds)  to obtaining a better medal.
Graphics wise, the game takes up a 1950s-ish look with the 2D graphics looking really good. Speaking of old-school, at least one of the kids bear a resemblance to Fallout's Vault Boy. A pretty interesting comparison since I like both games, one being a preacher of hyper-violence and one which wears its non-violence credentials (refreshing, I would say) on it's sleeve. LawnMowerKids features 21 levels and add this with the number of medals to earn, it should keep you occupied for quite some time. Here's hoping that Dohi Sweden will add in Game Center support to Lawn Mower Kids.
The multi-tasking portion whereby you need to keep an eye on the three kids simultaneously, to me, represents the fun part of LawnMowerKids; the developers hit a game play sweet spot on this. The game is frantic (in a fun way), interesting and accessible without it being some of the cookie cutter stuff that's cluttering the App Store these days. LawnMowerKids is now available for just USD 0.99 on Apple's App Store: https://itunes.apple.com/us/app/lawnmowerkids/id387179141?mt=8. Highly Recommended.
Powered by

Sidelines
Previous Post VANQUISH (PS3) Review: All-Out Combat in Space (Station)
Next Post Google to Release Google Android Mini Vinyl Toy/Figurine This November