Virus Strike (iPhone) Review: Just Don't Call It A Tetris Clone
I've got to admit that while Virus Strike for the iPhone plays a little like Tetris, some of it's gameplay elements are enough to make the game unique and in a constant state of flux (which keeps things interesting). Instead of colourful tetrominos, players deal with different coloured viruses. The normal swipe gestures normally associated with Tetris-like games are swapped for something a little more engaging, with players having to draw sloping lines in order to guide where the viruses will roll to.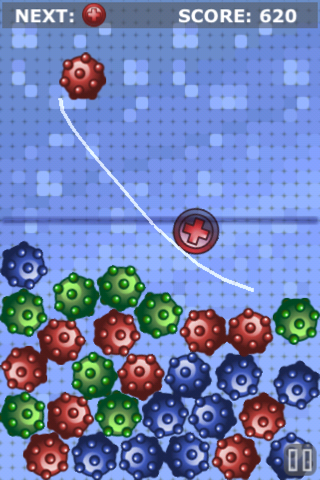 Every once in a while an antibody will drop from above, and players will have to guide it to come into contact with like-coloured viruses in order to achieve the similar block clearing effect in Tetris. However, should an antibody come into contact with a different colour virus, it will turn into a virus instead. Players have to be really careful when administering  antibodies; just like in real life medical practices I guess.
Both virus and antibodies drop at a faster rate as you progress, and this adds on to the challenge on stacking similar coloured viruses at a heightened paced while keeping in mind  the next antibody to come falling down. Who needs a D-Pad to move stuff about anyways when you get to draw lines (albeit only one line is allowed to exist on screen at any given point of time). It's just more fun and challenging that way. I can't believe the number of times I've been caught out but with practice and some forethought, you should be able to keep up as well.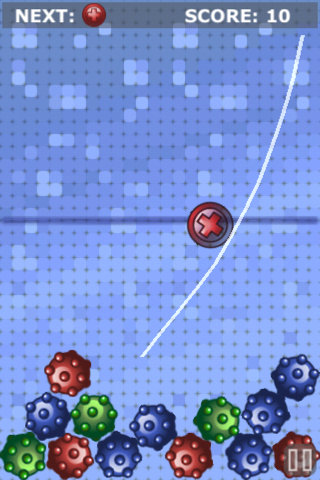 As I mentioned earlier, Virus Strike's gameplay element makes it a unique game that calling it a Tetris clone would be a disservice. It also has the hallmarks of a great game: easy to play, difficult to master, not to mention being a great time waster as well. The game is available on the App Store for USD  0.99. Check it out over here: https://itunes.apple.com/us/app/virus-strike/id396966520?mt=8. Recommended!
Powered by

Sidelines
Previous Post Touch Gaming Magazine Debuts on the iPad
Next Post Microsoft's Bill Gates in "Who Do You Want To Execute Today?"