Touch Gaming Magazine Debuts on the iPad
The guys over at Touch Gaming Magazine have come up with a really interesting magazine app for the iPad. Titled Touch Gaming Magazine, it's probably the first iPad-based magazine dedicated to iOS (iPad, iPhone, iPod touch) gaming. This will be a monthly publication filled with reviews, interviews, previews, background articles and more.
I've gotten Issue 1 of the apps thanks to the generous guys at TGM, and I'm already impressed with the amount of content in this 80-page issue. There are about a dozen interviews with developers for games such as Final Freeway, Aqua Moto Racing 2, Pizza Boy and many more. There are plenty of reviews as well, with some of the notable reviews in this issue include Monkey Island, Cut the Rope HD and Plunderland.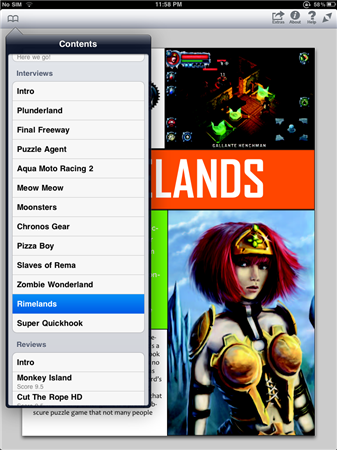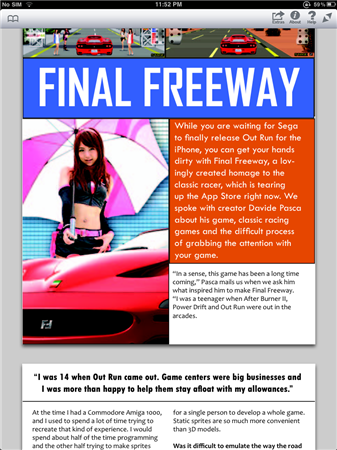 Each article is divided into sections and to read an article, a user will just need to scroll down. To move from one article to another, the user will just need to swipe left or right.  Otherwise, there's always the Table of Contents button on the upper left. The magazine also has several article-based extras, such as opening the App Store link  for the particular  game, the game publisher's website and even to view gameplay video.
As an added bonus, there are several galleries featuring not only art from several iOS games, but also some background on the thought process that went into the artwork. The amount of information cramped into Issue #1 certainly belies it's initial price tag of USD 0.99 and it's pretty easy to see that there's an enthusiastic bunch of people creating content for this digital magazine.
So if you have an iPad and at the same time interested in reading about iOS gaming, do check out the Touch Gaming Magazine app. It's currently available over at the App Store at https://itunes.apple.com/us/app/touch-gaming-magazine/id398852540?mt=8
To commemorate the launch of Touch Gaming Magazine, Nine Over Ten has teamed up with TGM to offer one promo code each to redeem TGM (US iTunes accounts only) for the first three Nine Over Ten 9/10 readers to comment on this post. Be sure to leave a valid e-mail address in order for us to get in touch with you.
Powered by

Sidelines
Previous Post Atari's The UnderGarden Set For November 10th Lauch Date
Next Post Virus Strike (iPhone) Review: Just Don't Call It A Tetris Clone