Samurai II: Vengeance (iPhone) Review
This is turning out to be a really violent and bloody night. One part God of War and another part Okami (or Viewtiful Joe or anything that comes with excellent cell-shaded art style), throw in some virtual controls and you have Samurai II: Vengeance for the iPhone/iPod touch. Make no mistake, this is one of the most beautiful iOS games I've ever laid my eyes on and even the blood splatter are pretty to look at.
Levels are linear affairs designed to guide players from point A to point B. In between, players will have to battle in segments and are only allowed to proceed once they have cleared the segment of enemies. You'll get some light puzzle affairs (turn on a switch, kick a box down a river to bridge a gap, etc) in between fights and while chopping people (and watching their heads fly off, or bodies getting split in to) never gets old in Samurai II, these puzzles showcase some of the greatly drawn and animated environments in which the game takes place in.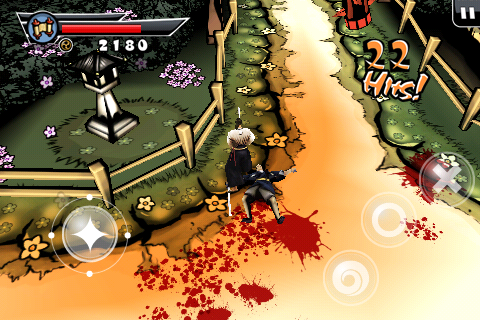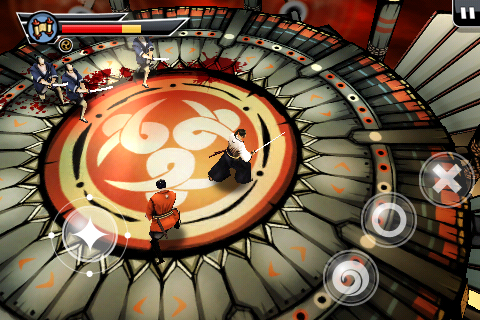 Virtual analog sticks are not my cup of tea and it's the same thing here in Samurai II, with the controls being serviceable. There's no joy in button pounding but what you get is enough to get the job done: one analog stick on the left, and dedicated buttons to perform rolls, heavy attack and light attack. The heavy and light attack buttons can be stringed to performed combos.
Players can unlock and purchase additional combos and even increase their character's health capacity in a rudimentary character update screen. Karma points spent in this part of the game can be earned by clearing areas of enemies and destroying barrels.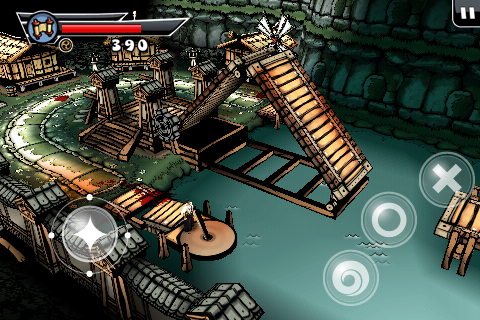 Samurai II's bells and whistles do come with a cost. With so many things going on, it stutters from time to time on the 3GS and it certainly made me appreciate the power afforded by the iPhone 4. Nevertheless, this game is an accomplishment that wouldn't be out of place even on Sony's PSN (which is something the developers should really consider). Aside from the main story game mode, Samurai II has a Dojo mode (think of it as practice), and a level select to replay previously concluded levels.
The game comes with Game Center support and I'm pretty impressed at how my progress was tracked in terms of how far more I've to go to obtain several achievements. Samurai II is now available on the Apple App Store for USD 2.99. Check it out over here: https://itunes.apple.com/us/app/samurai-ii-vengeance/id392486160?mt=8. Highly Recommended.
Powered by

Sidelines
Previous Post PipeRoll (iPhone) Game Review: Plumbing's Never Easy
Next Post Worms 2: Armageddon Released for iPad, iPhone and iPod touch