PipeRoll (iPhone) Game Review: Plumbing's Never Easy
Must be tough being a plumber, even if it's a virtual one in Navigation-Info's latest game for the iPhone, PipeRoll. In PipeRoll, players connect plug-holes (from homes, factories, water treatment plants) to each other in the fastest time possible by rotating underground pipes into place. Each plug-hole may carry one of four different colour-coded fluids (just imagine, water, sewage, sludge, etc), so it's important that the proper plug-holes are connected to each other.
Graphics wise, the game looks pretty good in 2D as you attempt to lay the underground piping. The soundtrack sounds like something from SimCity 2000 (another game whereby plumbing is an important thing to do as well). Re-playability is pretty much a done deal with this game as there are a 100 levels in the game. I'm at level 15-ish and I'm already connecting 3 different pairs of plug-holes. There's plenty of tapping to be done, and the game does throw in some red herring as well, with some orphan pipes lying here and there.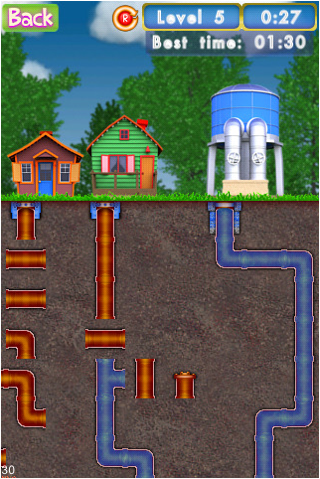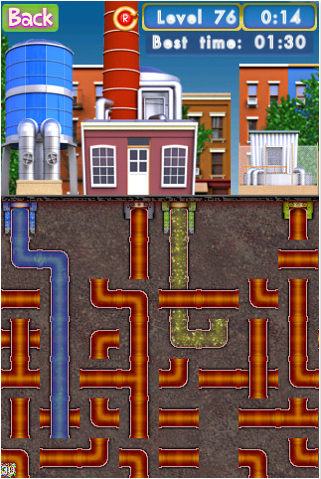 As simple and addictive (and admittedly, I'm a sucker for maze-like arrangement of pipes) the gameplay is, there are a couple of problems that I hope to see corrected in a future update. First up the game seems to crash whenever you bring it up (multi-tasking), and you'll need to end the process before launching the game again.
The second problem occurs when you are chasing the clock in-game. Even when you have finished connecting the pipes in what you think was a record time, the level is only completed when the liquid arrives at the destination (!!). This proves to be a source of frustration as I often go beyond the game's best times while waiting for the liquid to move. Either that, or the best times are utter bullshit.
There's still room for improvement for PipeRoll (Game Center integration would be swell), the developers might want to work on them bugs first. PipeRoll do have a price advantage over the 1000-pound gorilla sitting in the corner of the room, PipeMania (USD 2.99). PipeRoll is available on the App Store for USD 0.99. Check it out here: https://itunes.apple.com/us/app/piperoll/id399226597?mt=8. Decent.
Powered by

Sidelines
Previous Post Game Center Achievement/Leaderboard Whoring with 4Towers: Episode Two "Evolution"
Next Post Samurai II: Vengeance (iPhone) Review