Halloween Comes Around in Pocket Legends (iPhone/iPad) 3D MMO RPG!
I'm looking at my inbox with a smile on my face. It seems that almost every iPhone game developer/publisher/PR representative that I've liaised with has a Halloween update or two. For me, it's a pretty cool festive thing, with people getting dressed up like horror movie monsters, TV's showing back to back horror films (I watched Children of the Corn and The Birds today..I'm on sick leave) and kudos to the developers for putting in time and effort to come up with Halloween-themed app updates.
The guys and gals over at Spacetime Studios have come up with a Halloween Special for the one and only 3D MMO RPG on iOS devices, Pocket Legends, and it happens to be the game's first major holiday event! Check out what does this Halloween Special cover:
Costumes Players get to rent costumes from the in-game store and mash around as their favorite Pocket Legends monster! (includes Skeletons, Mummies, Aliens and many more). Do note that costume rentals are only for Halloween and, as such, will expire on November 1st.

Do some epic Trick or Treating in your new, rented, scary Halloween costume and get your hands on a really AWESOME PRIZE. The Trick or Treat quest can be accessed when you start the main holiday event in Balefort Castle!

Quests See what's going on in the pumpkin patch outside Balefort Castle, and follow the trail of madness to the Haunted Manor! That's right – new areas and they are just for Halloween!

Loot There are some incredible new loot items will be dropping during this Halloween event. See what sort of pink-item treats you can loot from the Haunted Manor!

Item Packs Check out the new item packs designed specifically for this (first) major holiday event! These item packs are especially awesome in that playershave a chance of getting versions of the coolest loot items, although they are not as powerful as the ones looted from boss monsters.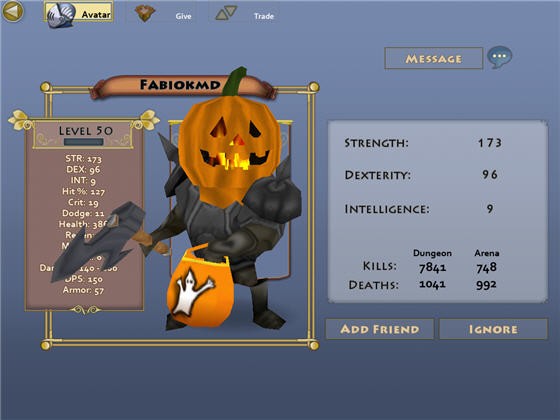 Curious to see this for yourselves? New users can download Pocket Legends for free from the App Store over here: https://itunes.apple.com/us/app/pocket-legends-3d-mmo/id355767097?mt=8
Powered by

Sidelines
Previous Post iPhone Now Available Contract Free at Selected Tesco Stores in Peninsular Malaysia
Next Post Game Center Achievement/Leaderboard Whoring with 4Towers: Episode Two "Evolution"