PlayFirst Releases Hotel Dash for the iPhone/iPod touch
From the kitchen, to diners to weddings, and now hotels, it seems that PlayFirst is covering plenty of ground with the release of their latest DASH game for the iPhone and iPod touch, Hotel Dash. This time around Quinn and Flo will have their hands full handling customers in the game's three different hotels, with tasks ranging from delivering luggage, room service and even intercepting sleepwalkers! Sounds like fun. Check out the Press Release below for further information:
PlayFirst Debuts Hotel Dash on the App Store: Latest Title in the DASH® Series Now Available for iPhone™ and iPod touch™
SAN FRANCISCO – October 28, 2010 – PlayFirst®, Inc., a leading publisher of engaging interactive entertainment, today announced Hotel Dash™ is available on the App Store for iPhone™ and iPod touch™. Hotel Dash joins other successful DASH® titles on the App Store including Diner Dash, Cooking Dash, and Wedding Dash. All three games have appeared on the top paid app charts and the series has been downloaded more than 8 million times to date.
Continuing PlayFirst's approach of developing games that take advantage of the latest technology, Hotel Dash is optimized for touch screen interaction and enhanced with retina display graphics for iOS4 devices.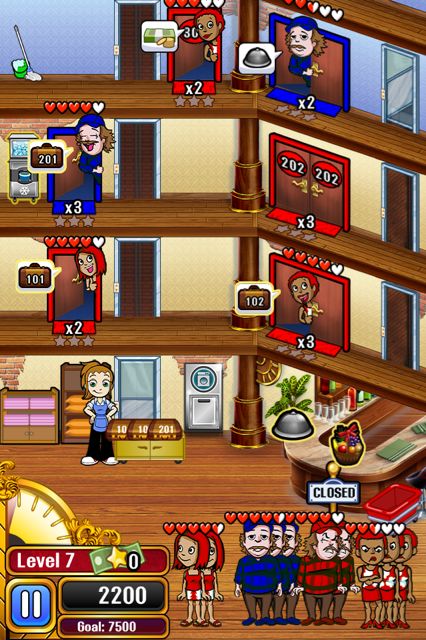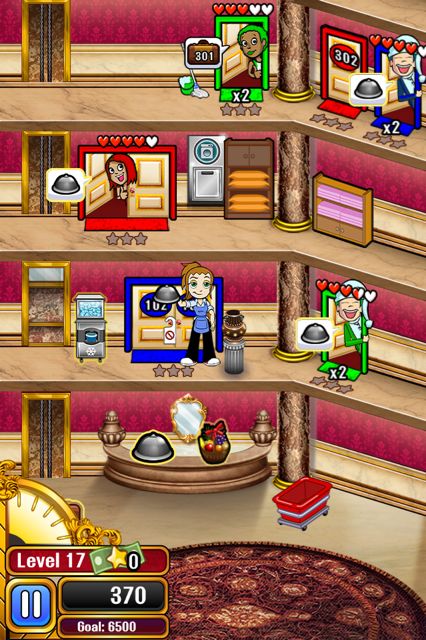 Setting its sights to be the fourth smash hit DASH game on the App Store, Hotel Dash adds a new vertical twist to the patented DASH gameplay mechanic, as Quinn® and Flo® open and renovate a series of hotels and attend to every whim of the guests via an elevator. Players jump into a time management puzzle that sends them on an up and down adventure through three uniquely themed hotels. By delivering luggage, dropping off room service, intercepting sleepwalking patrons and more, players will accommodate quirky guests like honeymooners, celebrities and fashionistas all with their own unique requests and demands. Happy guests equal bigger tips, so players must provide 5-star service to gain the funds needed to upgrade their hotels to the hilt.
"We've had amazing success on Apple devices with the DASH franchise," said Chris Williams, General Manager of Mobile for PlayFirst. "Our first game for iPhone and iPod touch, Diner Dash, has resided among the top 100 paid apps for more than 700 consecutive days – and counting. The success of DASH on these devices is a testament to our approach of designing games specifically for these platforms, as well as the strength of the DASH brand."
The Hotel Dash App is available for $2.99 from the AppStore on iPhone and iPod touch or at www.itunes.com/appstore/.
Powered by

Sidelines
Previous Post Aqua Pearls (iPhone) Game Review: Having Fun Stringing Pearls
Next Post Turn Your Friends into Monsters this Halloween with Monstermakr (iPhone)